Discover more from Bald Faced Truth by John Canzano
Columnist John Canzano on sports, college football, and more.
Over 36,000 subscribers
Canzano: Oregon and Oregon State plotting to keep Civil War alive in 2024
Plus: MWC plan... and Jonathan Smith's future at OSU?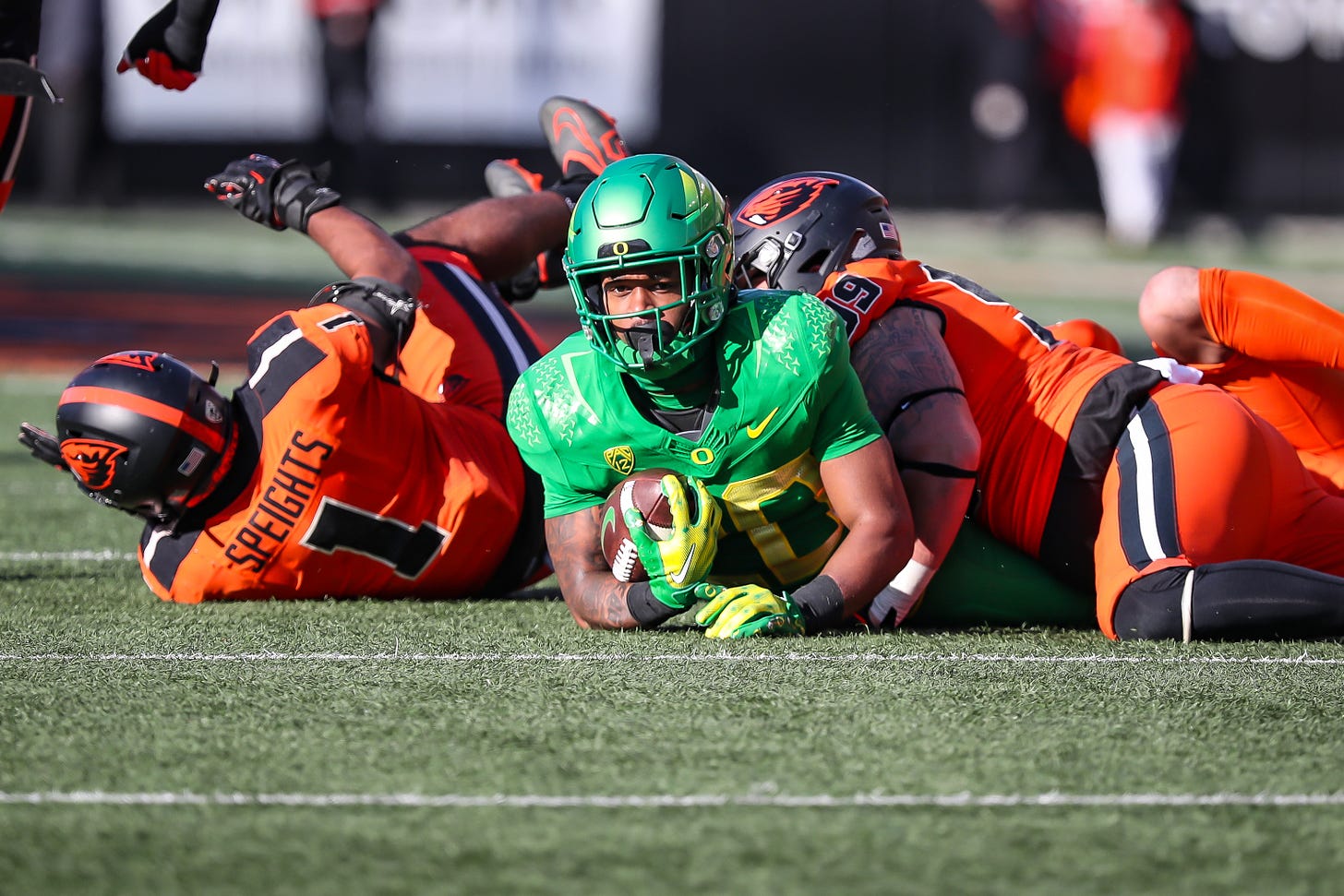 The University of Oregon and Oregon State are working on a plan to avoid interrupting the Civil War football series in 2024, I'm told.
The key?
Boise State.
If the Civil War rivalry is going to be played in 2024, Sept. 14 is the date the Ducks and Beavers hope to do it, sources told me. OSU has an open date on that Saturday and Oregon is scheduled to host Boise State that day at Autzen Stadium.
Boise State and Oregon are under contract for a 2-for-1 series that has the Broncos hosting the Ducks in 2025 and traveling to Eugene in 2024 and 2026. The Civil War revival talks have centered on Oregon canceling the first two games of the agreement, opening the door to a home-and-home series in 2024 and 2025 with Oregon State.
"We're talking," said a source at UO.
Would the Broncos give up a home game in 2025 vs. a Big Ten Conference opponent? Officials at BSU did not return messages. The answer likely depends on whether the Ducks want to buy out the games or just try to reschedule them in future seasons.
The contract between Boise State and Oregon, obtained via public records request, calls for the visiting team to receive $300,000 in 2024 (Boise State) and 2025 (Oregon). The Broncos will get $800,000 to play in Eugene in 2026.
Boise State fired football coach Andy Avalos earlier this month. The Broncos are on the hook for his $2.85 million buyout. They'll have to pay for a successor, too. Canceling the series with the Ducks and collecting a six-figure check would help with cash flow.
The Civil War rivalry game between Oregon and Oregon State has been played 126 times. The 127th meeting is scheduled for next Friday at Autzen Stadium. The Ducks are 9-1 this season. The Beavers are 8-2.
Is it really the final meeting between the teams? Are both sides actually interested in continuing to play each other? Or just publicly posturing?
We'll soon find out.
There was no Civil War game played in 1911 and the games were canceled in 1943 and 1944 due to the war. The rivalry series not only guarantees a sell out for the home team, but also fosters economic and intangible benefits to the state. Oregon State, for example, recently asked the state legislature for $30 million in additional funding to help with the expected revenue shortfall caused by the Pac-12's implosion.
I've wondered in recent weeks if the Oregon State Legislature might introduce a bill that requires the schools to play each other in the home-and-home series. It would help a little with OSU's revenue issue and foster some harmony. But if the teams can keep the series together themselves, it leaves the lawmakers to focus on bigger priorities.
---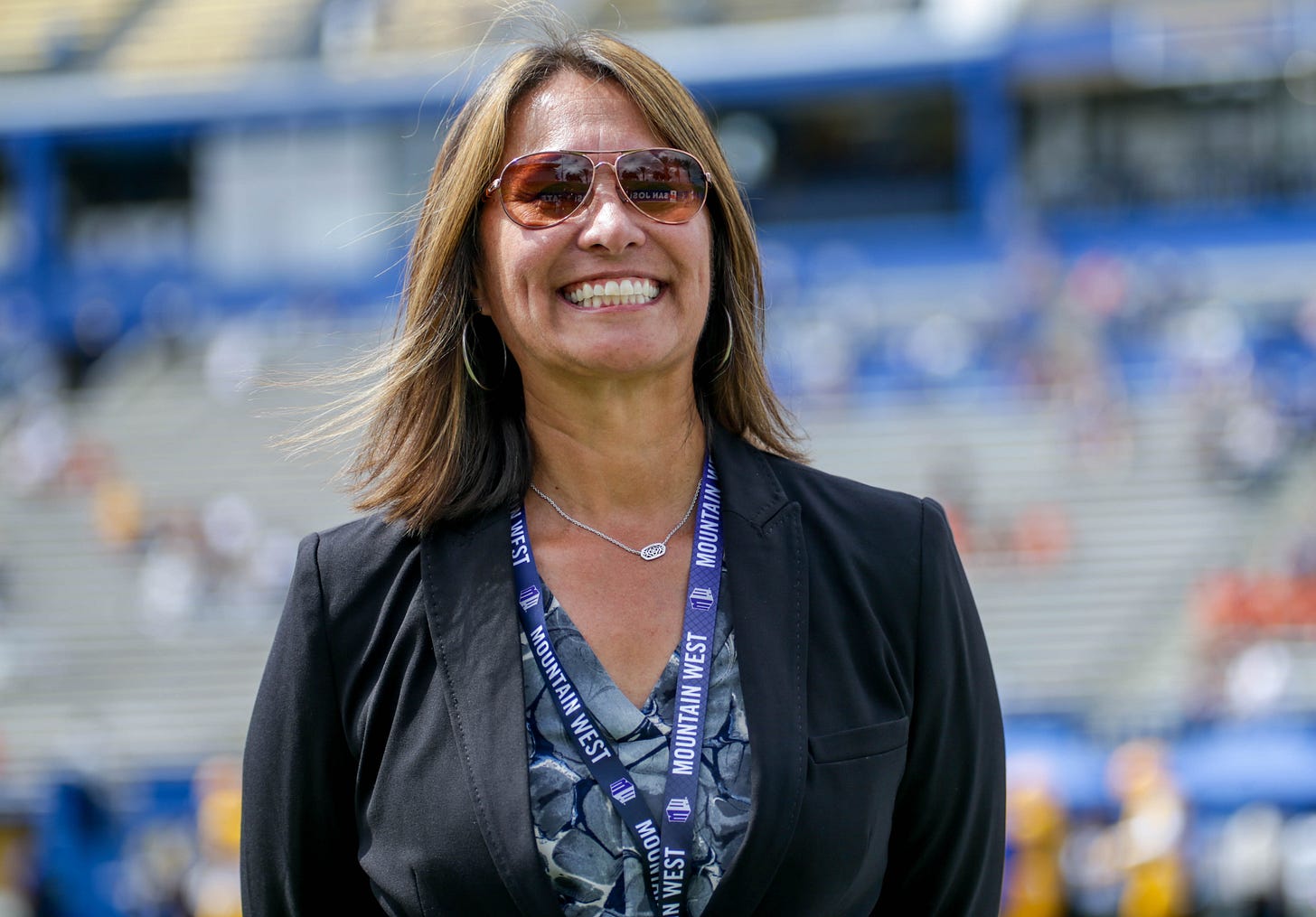 MOUNTAIN WEST PLAN: On Wednesday night, Mountain West Conference Commissioner Gloria Nevarez briefed her athletic directors via Zoom on a proposal that would have Oregon State and Washington State form a two-season scheduling alliance with her conference. I'd previously reported this was in the works.
The scheduling partnership would have each MWC member playing seven conference games, plus one game each vs. either the Beavers or Cougars. The MWC schools would alternate playing one game vs. OSU/WSU in 2024/2025. The Beavers and Cougars would not be eligible for the conference championship.
For Oregon State and Washington State, the MWC plan helps solve a looming problem. It adds a minimum of six football games to the 2024 and 2025 schedules for each school. The Pac-12 plays nine conference games this season. The Beavers and Cougars would also play each other head-to-head in 2024, but would both still need to add two additional opponents.
In a pinch, the "Pac-2" schools might agree to play a twice (home-and-home series) during the same season, I'm told. It's not an unprecedented move. That could cut the need for games in 2024 and 2025 down to one game.
Civil War, anyone?
---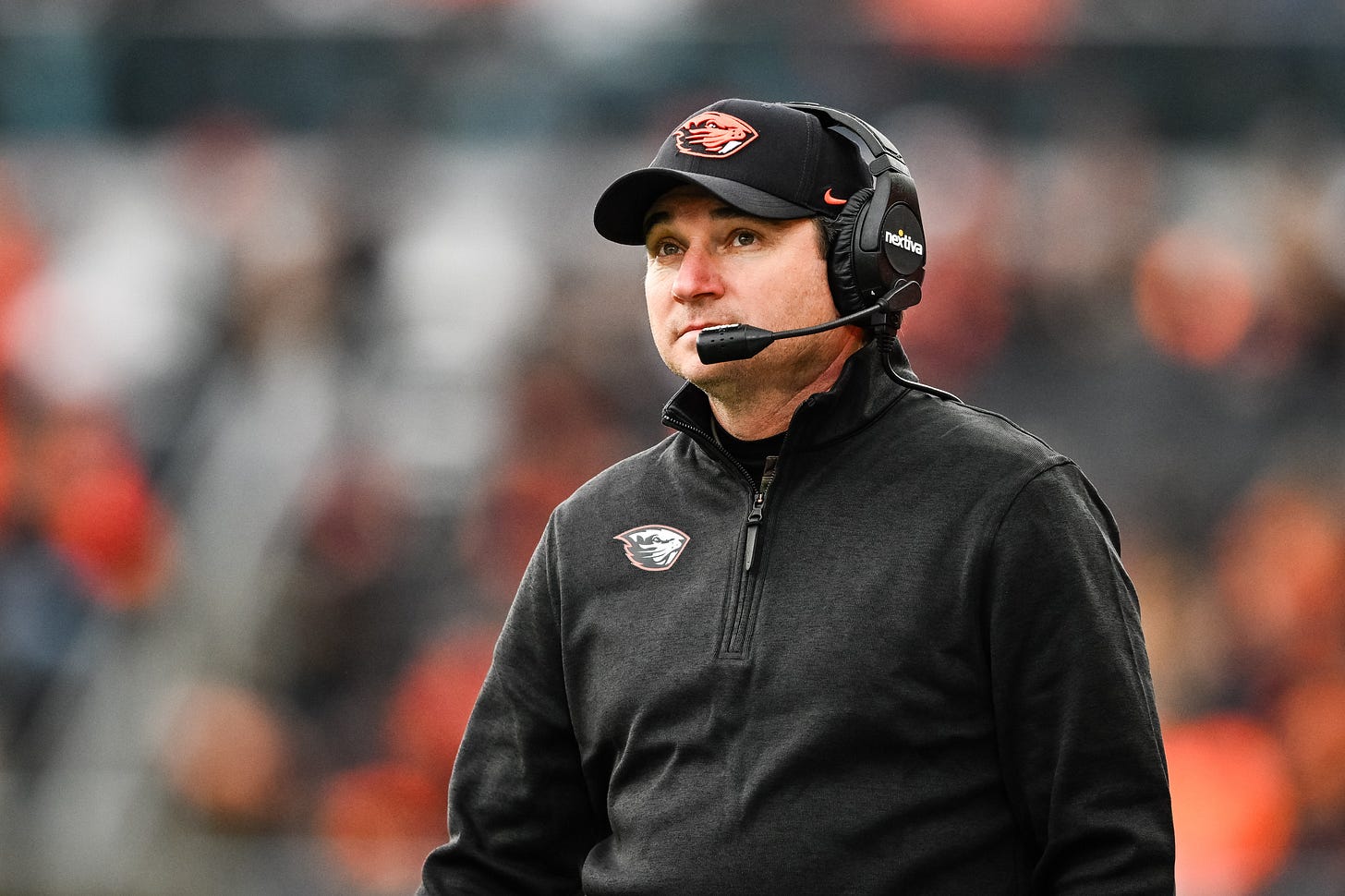 LOCKING DOWN SMITH: I've been waiting for Oregon State to announce that football coach Jonathan Smith has been offered a contract extension and given a raise. Given his success, it's a no-brainer. So far, it has been publicly quiet on that front.
I caught up with OSU athletic director Scott Barnes this week, who told me that he's been in daily contact with his football coach.
"Jonathan knows our plan and he's on board with it," Barnes said.
The AD indicated that Smith plans to meet 1-on-1 with his players after the Nov. 24 season finale. At that point, the Beavers will share the plan for 2024. The transfer portal opens Dec. 4.
It could be that Smith has already agreed to a contract extension with OSU and wants to wait until after the regular season finale to announce it. Or it could be that Oregon State has a new deal in front of him and Smith is waiting to see the finalized plan for 2024 before he acts. Or it could be neither. Last December, Smith agreed to a new six-year, $30.6 million contract. It runs through the 2028 season.
I asked Smith this week how he felt about the plan for the 2024 season. Was the schedule coming together? Does the Beavers' coach like what he sees?
Keep in mind, OSU and WSU landed a huge victory on Tuesday in Whitman County Superior Court. If it holds up in an appeal, the ruling gives the two schools control of the Pac-12's board.
Said Smith: "(Tuesday) was a big day to continue to progress on putting this thing together… a competitive schedule next year… it's not finalized yet, but the people we're talking to and the teams we're considering, I feel like that will be a competitive schedule. The funding part, we're going to continue to fund at the Power 5 level. That was a huge decision (Tuesday) to continue to be able to do that.
"Not just Scott (Barnes) alone, lots of people have been working on this thing. There's so much to digest and navigate in the scenario we're in. It takes a little time and that was another huge step (Tuesday)."
---
I appreciate all who read, support, subscribe and share this new, independent, endeavor with friends. If you're not already a "paid" subscriber, please consider a subscription so you don't miss a thing:
If you'd like to give a gift subscription to a friend or family member:
This is an independent reader-supported project, with both free and paid subscriptions. Those who opt for the paid edition are providing vital assistance to bolster my independent coverage. Paid subscribers have full access to all of my posts.