Discover more from Bald Faced Truth by John Canzano
Columnist John Canzano on sports, college football, and more.
Over 36,000 subscribers
Canzano: Oregon State and Washington State seize control of Pac-12
Judge Gary Libey grants board seats to Beavers, Cougars.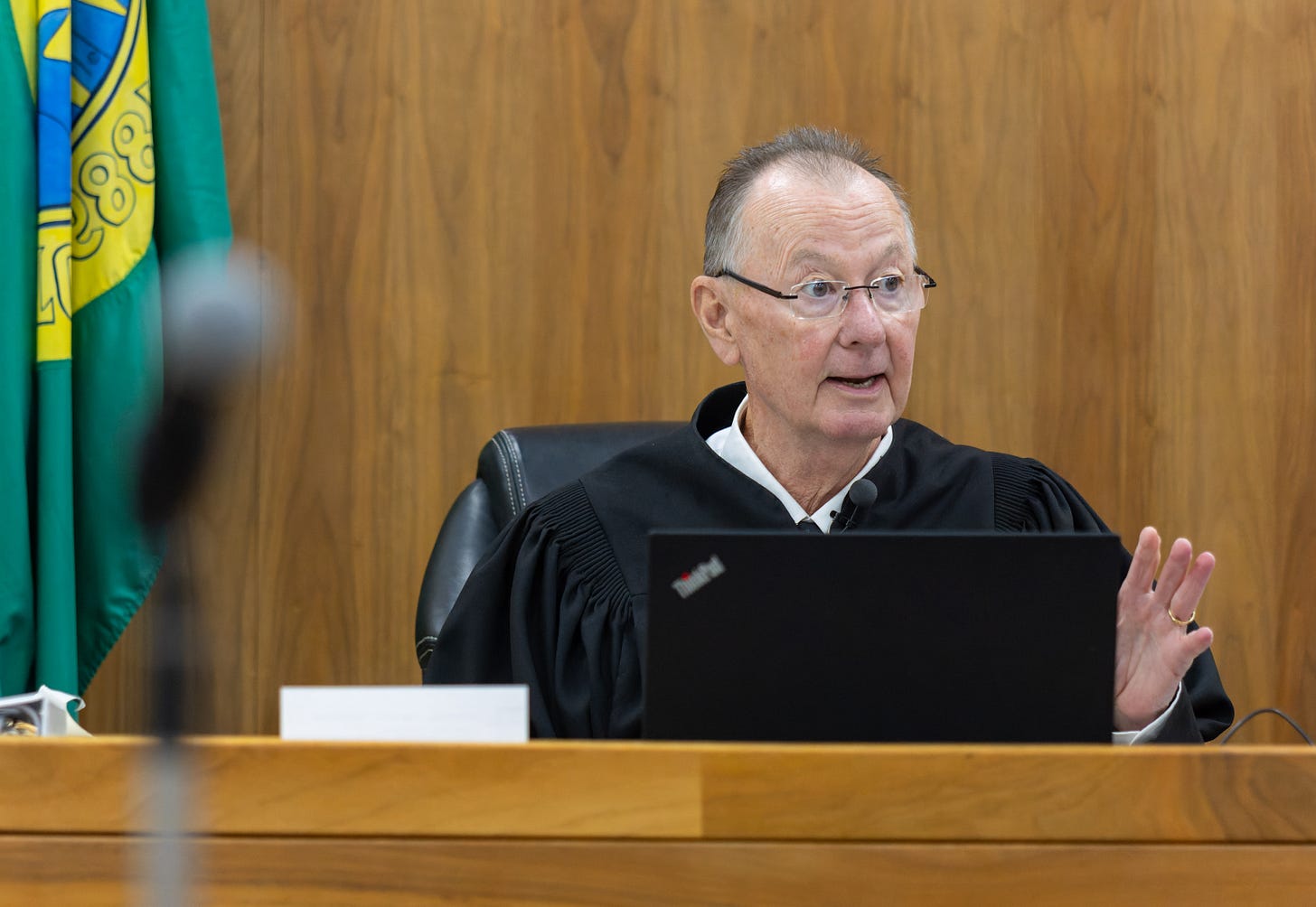 COLFAX, Wash. — Trudy Libey had lunch at a cafe on Main Street on Tuesday, two blocks from the Whitman County Superior Courthouse. She wore a bright pink blouse and dined at a four-top table situated along one wall.
Directly across from her was former Washington State football coach Jim Walden and his wife, Nancy. The long-time friends ate lunch, paid the bill, and left. A server wiped down the table. A few minutes later, the front door swung open and a half dozen lawyers dressed in dark suits filed into the room.
The attorneys for the "Pac-2" looked around and pulled up chairs at the very same table.
The scene underscored the small-town atmosphere in downtown Colfax, and the big-time stakes that hung in the balance on Tuesday. There was a lot of buzz at that cafe, which eventually found its way down the street to the second floor of the county courthouse.
Judge Gary Libey — Trudy's husband — ruled in favor of Oregon State and Washington State on Tuesday. He granted the Beavers and Cougars voting control of the Pac-12 board and added "I grew up where conduct spoke louder than words."
The judge's words hit like a hammer, didn't they?
Attorneys for the University of Washington and Pac-12 immediately announced their intent to appeal. But Tuesday's ruling was a nice victory for a couple of schools that desperately needed one.
Before leaving for the night, Libey said that it wasn't a total "shutout" for the 10 departing members. They'll still get to see Pac-12 board agenda items and offer input and arguments. But what they don't get are votes. OSU and WSU now hold the only two that count.
A few things struck me on Tuesday:
— The hearing spanned two hours and 44 minutes. The event included more than a dozen lawyers. Judge Libey surveyed the crowded courtroom and said he believed there were probably more attorneys in the courtroom than the sum of all the attorneys in the five neighboring counties.
— I sat in the second row, immediately behind Washington State president Kirk Schulz and his athletic director Pat Chun. Oregon State AD Scott Barnes was across the aisle.
— After the hearing, Barnes said: "It's vindication for our student athletes."
— Chun said: "It was a positive step, one we were hoping for and expecting."
— Schulz offered: "We've got to get the football schedule done."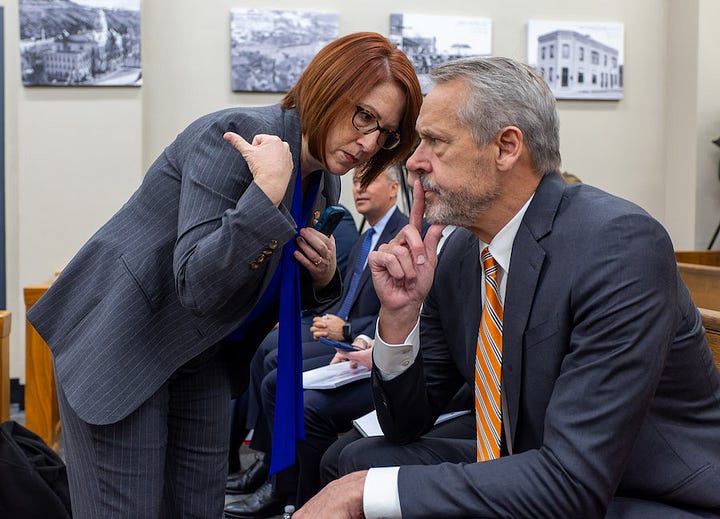 College football still sits at the core of the conversation, doesn't it? The season is waning and the transfer portal opens on Dec. 4. The Pac-2 leaders told me they remain in lockstep, focused on finding a solution for the 2024 season. I asked Barnes whether he'd had conversations with Oregon State football players about where the school might play next season.
Said Barnes: "We'll have all the information for them when Jonathan (Smith) has his 1-on-1 sit-downs with the players."
I wasn't surprised to see Trudy Libey at that downtown cafe. She grew up in Colfax. Her very first date with her husband happened right across the street at the Hyde Out Bar & Grill. Tuesday's court hearing was as big a spectacle as there is around town.
During the court hearing, Trudy sat in what is typically utilized as the juror's box alongside 11 other interested friends. She was a few seats away from that old Cougars' football coach, Walden, who nodded in approval when the decision was announced.
Weeks ago, I asked Judge Libey how he could objectively hear a case involving Washington State. It's his alma mater, after all, and he once served as president of the Whitman County Cougar Club.
Libey told me: "I hear cases in Whitman County all the time that involve WSU. WSU has been a party in a bunch of cases in my courtroom over the years. Here's what I do: I treat them like anybody else."
Libey was careful and patient on Tuesday. The hearing was only slotted for 60 minutes in length. He allowed the lawyers more than double that time.
The attorneys for the "Pac-2" — led by Eric MacMichael and Nicholas Goldberg — presented simple, logical and legally sound arguments. They spoke the love language of a small-town judge.
"They care about one thing and one thing only, draining all the money out of the conference and leaving no money for the liabilities on their way out the door," said, MacMichael about 10 departing schools.
"Just imagine what they're going to do if they are the board," he added.
Late in the day one of the defense attorneys made a motion to dismiss the claim. But his speech veered off course, circled back a couple of times, and was lengthy.
Matthew Wand, an attorney tuned into the hearing on the Zoom call, sent me a text during that portion of the event: "That's a very bad sign for him. You don't have to dance this much with a winner."
Oregon State and Washington State still have lots of work to do. They'll need to fend off an appeal and find a schedule for the 2024 football season. Meanwhile, the attorneys for the University of Washington argued that the case belonged in the United States Supreme Court given that the Pac-12 involves six jurisdictions.
That elicited a chuckle in the courtroom.
I was surrounded by a bunch of intelligent, well-dressed people on Tuesday. No doubt, had they harnessed all that brainpower in one direction a year ago they might have been able to save the Pac-12. On Tuesday, they were in a tug-of-war over it.
Oregon State and Washington State have control.
Can't wait to see what they do with it.
---
I appreciate all who read, support, subscribe and share this new, independent, endeavor with friends. If you're not already a "paid" subscriber, please consider a subscription so you don't miss a thing:
If you'd like to give a gift subscription to a friend or family member:
This is an independent reader-supported project, with both free and paid subscriptions. Those who opt for the paid edition are providing vital assistance to bolster my independent coverage. Paid subscribers have full access to all of my posts.