Discover more from Bald Faced Truth by John Canzano
Columnist John Canzano on sports, college football, and more.
Over 36,000 subscribers
Canzano: Bo Nix, Dante Moore and a swirling Pac-12 picture
The story behind those edits we all see.
Bo Nix's decision to stay in college and return to the University of Oregon was a big deal on Sunday.
A huge win for the Ducks. A big get for coach Dan Lanning. Great for the Pac-12 Conference. But it was five-star high school quarterback Dante Moore and the creative genius of 21-year-old Hayes Fawcett I found myself thinking about.
Moore flipped his commitment from Oregon to UCLA on Monday. He made the announcement on social media with artwork that featured the Hollywood sign, the Rose Bowl stadium, blue skies, an airplane, UCLA's mascot, and a few photos of Moore in a Bruins uniform alongside his autograph.
The mark of the artist himself — Fawcett — was hidden in plain sight, just beneath Moore's reproduced signature. I'll get to Nix's decision, Moore's defection to UCLA and what it all means for the Pac-12 in a moment. But first, a little about the artist.
Fawcett grew up in Louisiana. He's been making sports-themed "edits" since middle school. He's now a communications major at Northwestern State University in Natchitoches, La. He also works as a social-media recruiting expert for on3Sports.
You've seen Fawcett's work in recent years. Transfer-portal announcements, recruiting news, and a handful of "…after much consideration I've decided to declare for the NFL Draft…" announcements. I was curious about the guy and tracked him down on Monday.
"I was just doing it for fun in the seventh grade," he said.
Fawcett was a middle-school quarterback at the time and enjoyed talking with high-profile recruits, asking them for pointers. He did most of the artwork using apps on his phone. He's since transitioned to using a laptop and Adobe Photoshop.
"Making edits gave me an excuse to talk with players and pick their brains," he said. "As time went on, I kept growing. I never really had the thought that I'd be able to turn my passion into a career."
Fawcett doesn't charge the players for the artwork. There aren't NIL collectives involved. He says his weekly salary comes from his sports-media employer, who has to love that he's grown his social-media presence to nearly 300,000 followers between Twitter and Instagram.
This time of year is especially busy for Fawcett. The transfer portal is filled with players. Signing day is Wednesday. Last year, during the college football December signing period, he got little sleep.
"I stayed up like 48 hours straight, working the whole time," he said.
Fawcett has known Moore for more than two years. He's done several other graphics for the five-star quarterback recruit. Moore reached out on Sunday, telling Fawcett that he was flipping his Oregon commitment to UCLA and needed a graphic to announce it. There's a lot of trust involved in keeping that news private.
"I don't tell anyone," Fawcett said. "I don't break the news. I don't tell reporters. I don't participate in those predictions of where players will commit."
Fawcett grew up in a family with six children. They played a lot of sports. He has five brothers, four of which are younger than him.
I tell my own three children if they can find a career that marries their interests and talents to a paycheck, they'll look forward to going to work. Fawcett is a wonderful example of this.
Now, the football part…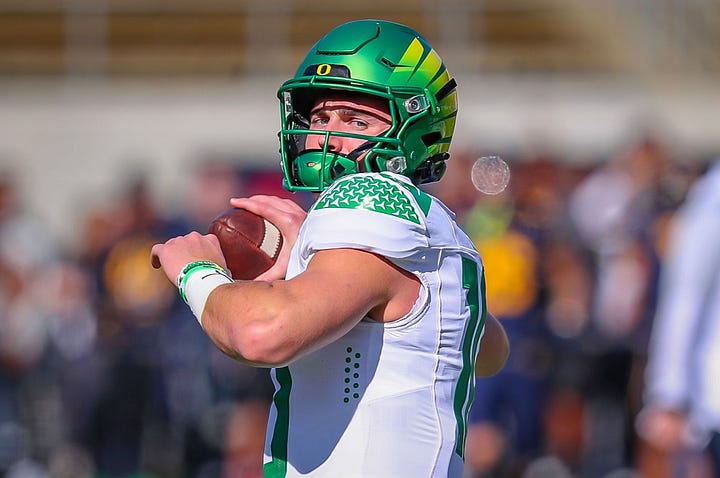 Oregon Ducks
Did Bo Nix's decision to return to Oregon push Dante Moore into the arms of Chip Kelly? Or maybe the Ducks just waited and had Nix go public with his announcement on Sunday after they were informed by Moore that he was flipping.
Nix's return to Eugene is the biggest postseason victory that Lanning could have engineered. Beating North Carolina in the upcoming Holiday Bowl would be great, but Nix being in uniform for the 2023 season is better. The Ducks lost offensive coordinator Kenny Dillingham to Arizona State. They were facing a total offensive rebuild without Nix.
Nix or Moore?
Which would Oregon rather have?
For 2023, I'd take Nix. It's a no-brainer. Given the transient nature of quarterbacks and the transfer portal, nobody can be sure Moore will stick at UCLA. He probably will, maybe. But knowing that Nix is back next season is a huge advantage for the Ducks, who desperately needed continuity.
Oregon's new offensive coordinator, Will Stein, now knows he has a proven starting quarterback to work with. It creates a bridge for Stein to walk across during his first season calling the plays.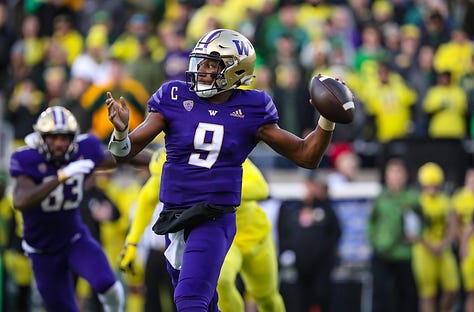 Pac-12 Conference
Quarterback Michael Penix Jr. is coming back to Washington. He's a high-profile asset for the conference. USC has quarterback Caleb Williams coming back. Now, Nix is returning next season, too.
Utah's Cam Rising?
Is he in, too?
Williams, the Heisman winner, isn't NFL Draft eligible. A player must be out of high school for at least three years. But Penix Jr. and Nix were both eligible to leave college, appeared to be gone, and reversed course. No doubt, the respective NIL collectives played a role in their returns.
Penix was asked about the role NIL played in his decision during an interview on Seattle radio by KJR's Dave "Softy" Mahler. It was a great question. One that Penix awkwardly sidestepped.
Said Penix: "The NIL world does exist, but I don't know."
The Pac-12 quarterback stable currently includes the reigning Heisman winner (Williams), Penix Jr., Nix, and UCLA has added Moore. It's a terrific group. Beyond that, Colorado and Oregon State both have their eyes fixed on the transfer portal, looking for quarterbacks.
On Nov. 12, after Utah beat Stanford on Senior Night, Rising was asked if he'd played his final game at Rice-Eccles Stadium.
Rising's answer: "Yes, I believe so."
Would the two-time conference champion consider one more season at Utah? I asked Josh Newman of The Salt Lake Tribune that exact question on Monday. What are the chances Rising returns?
Said Newman: "Greater than zero, which was not the case a month ago."
---
I appreciate all who read, support, subscribe and share this new, independent, endeavor with friends and families. If you're not already a "paid" subscriber, please consider a subscription or a gift subscription for someone else:
This is an independent reader-supported project, with both free and paid subscriptions. Those who opt for the paid edition are providing vital assistance to bolster my independent coverage. Paid subscribers have full access to all of my posts.