Discover more from Bald Faced Truth by John Canzano
Columnist John Canzano on sports, college football, and more.
Over 36,000 subscribers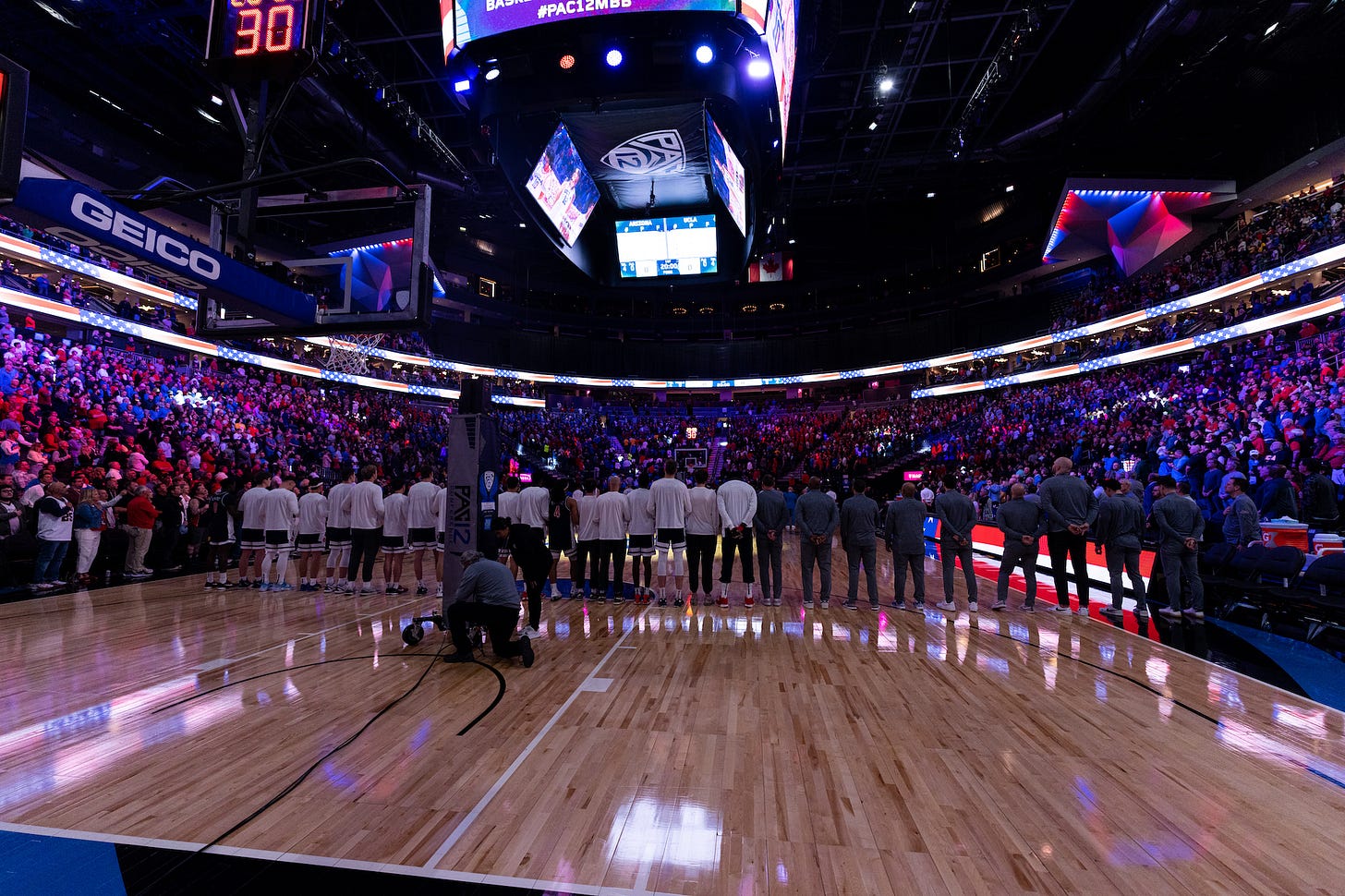 Andrew Martin has been involved in basketball coaching and scouting for a couple of decades. He's worked and lived in the San Francisco Bay Area, Pacific Northwest and is currently based in Arizona.
I asked Martin to take an exhaustive look at the Pac-12 Conference men's basketball programs and offer his analysis, thoughts and predictions for the upcoming season. He sifted through the transfer portal, talked with insiders, and reported back with his analysis.
Martin sees three clear tiers of competition in the Pac-12 this season: five contenders, three other schools that could punch their way into the upper echelon, and four programs at the bottom that hope to catch a break.
Who got better for 2023-24? Who went backwards? Who is just kind of the same? And what new faces should you be excited about?
I'll let Martin take it from here:
---
The contenders…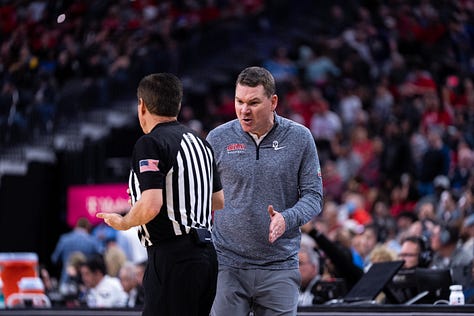 1. Arizona
Last Season: 28-7, 14-6 in Pac-12
Preseason KenPom Ranking: No. 6
Pac-12 Media Poll: 1st
After falling flat on the national stage last year with a first-round March Madness loss to Princeton (scholarship free since 1901), and losing star big man Azuolas Tubelis to the NBA, the Wildcats show up this year absolutely loaded thanks to the transfer portal. Caleb Love (North Carolina), Jaden Bradley (Alabama), and Keshad Johnson from San Diego State are some of the new faces in Tucson... and returning big man Oumar Ballo was named to the Kareem Abdul-Jabbar Watch List for best college centers.
Arizona also will show up to conference play battle-tested, with early non-conference games vs. Duke, Michigan State, Wisconsin and Alabama, among others. There are some questions as to how good defensively the Wildcats will be, but if Tommy Lloyd can coach anywhere near as well as he recruits, the Wildcats are the clear favorites to win the conference.
2. USC
Last Season: 22-11, 14-6 in Pac-12
Preseason KenPom: No. 21
Pac-12 Media Poll: 2nd
Before the injury bug bit, I thought USC had a legitimate shot at winning the conference title. Which actually would have been kind of annoying since the Trojans are also largely responsible for killing the Pac-12. But anyway, most eyes in LA will be on Bronny James, who intends to play this year after he's cleared (cardiac arrest).
Big man Vincent Iwuchukwu, who has NBA size and athleticism, is coming back from surgery (and was on a minutes restriction last season). USC still brings plenty to the table with five-star super frosh Isaiah Collier, returning guards Boogie Ellis and Kobe Johnson and Wazzu transfer DJ Rodman.
If you believe Internet hoops rumors (and I do, as a rule, because it makes life more fun), the Trojans (allegedly) lost a closed-door preseason scrimmage to the University of San Francisco... so what does that mean? Probably nothing. The Trojans will have a couple of interesting tests with Gonzaga and Auburn on their non-conference schedule.
3. Colorado
Last Season: 18-17, 8-12 in Pac-12
Preseason KenPom: No. 28
Pac-12 Media Poll: 5th
There is a lot of buzz in Boulder and this time it has nothing to do with Coach Prime. It might be crazy to have Colorado picked to finish this high, but I think experience matters, and coach Tad Boyle is bringing back a tough, veteran squad.
The Buffs might not be the biggest team around but TCU transfer Eddie Lampkin and a couple of freshmen will add some size. KJ Simpson and Tristan da Silva are as good of a 1-2 punch as you can find in the conference. Add in five-star freshman Cody Williams alongside all the returning players, and it is safe to say nobody is going to want to be paired up with Colorado in Las Vegas at the conference tournament this year.
The Buffs didn't schedule a ton of high majors in their non-conference schedule, but there are a few tricky games in there so it will be interesting to see what their record is entering conference play.
4. Oregon
Last Season: 21-15, 12-8 in Pac-12
Preseason KenPom: No. 41
Pac-12 Media Poll: 4th
I was reading a column last week about NCAA coaches on the hot seat this year, and four of them were in the Pac-12. Three of the four are easy to guess (hint: it starts in Palo Alto and goes north from there). But the name that shocked me was Dana Altman.
The results lately in Eugene may not be up to expectations, but the idea that you can find a better coach than Altman is just kind of ludicrous... and I say that as someone who isn't even remotely an Oregon fan... just a fan of good coaches. The Ducks have a lot of talent on the roster this year, but I pumped the brakes on expectations after reading reports of some hobbled players in the run-up to the season.
Then, I watched the Ducks season-opening 82-71 victory over Georgia this week. Oregon appeared anything but hobbled. The new transfer players are for-real contributors and Nate Bittle is playing with confidence on both ends. Don't count out Oregon as a contender.
In other good news, whenever you have N'Faly Dante on the floor, you have a chance to win. Add in three big-time freshmen newcomers: five-star prospect Kwame Evans, two-time Oregon high school Player of the Year Jackson Shelstad (West Linn High) and McDonald's All American Mookie Cook (currently on a slow start due to injury), and it is safe to say the future in Eugene is bright.
Guards Jermaine Couisnard and Keeshawn Barthelemy are returning. And Oregon added a couple of transfer players who can really shoot the ball. The Ducks will be a handful every night if they can get — and stay — healthy. Other early non-conference opponents include Michigan, Syracuse, and some tough games in the Emerald Coast Classic.
5. UCLA
Last Season: 31-6, 18-2 in Pac-12
Preseason KenPom: No. 26
Pac-12 Media Poll: 3rd
How good is UCLA going to be this year? Nobody really knows. After having one of the most talented and experienced teams in the conference last season, 2023-24 will look much different.
The Bruins are young... but some believe this is Mick Cronin's best recruiting class ever. Is UCLA a season or two away? Possibly. Is there any truth to the rumor that Cronin recruited European players because they would already be accustomed to the long plane flights when the Bruins make the move to the Big Ten? (Probably not because I just made that up.)
Adem Bona, returns for the Bruins at center, and sharpshooting Utah transfer Lazar Stefanovic provides veteran leadership. Aday Mara of Spain (considered a future lottery pick) was just cleared to play by the NCAA, and Turkish forward Berke Buyuktuncel (waiting on an NCAA eligibility decision) is another one to watch.
Another whisper is that UCLA (playing without Bona, Mara, or Buyuktuncel) lost a closed-door scrimmage to Santa Clara. (It used to shock me when low and mid-majors beat high major schools, but the reality is, this is becoming more and more common amid growing parity). Once all eligibility issues are sorted, we'll have a much better idea what this UCLA team is, especially after preseason games against Villanova, Ohio State and Maryland.
---
They have a puncher's chance…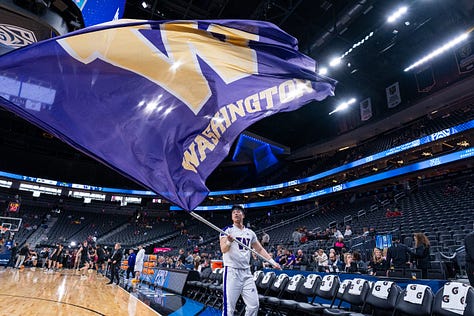 6. Washington
Last Season: 16-16, 8-12 in Pac-12
Preseason KenPom: No. 78
Pac-12 Media Poll: 9th
What's this now? The rumors of the UW hoops demise may have been greatly exaggerated? It is no secret that coach Mike Hopkins won't keep his job if the current program trajectory continues this season... but the whisper is the Huskies reloaded through the transfer portal.
UW returns its best all-around player in Keion Brooks Jr., and its best defensive player back in Braxton Meah. The Huskies brought in Sahvir Wheeler (Kentucky), Paul Mulcahy (Rutgers), and Moses Wood (Portland), in addition to some talented freshmen. Is UW hoops officially back? We'll have to wait and see... but I'm making popcorn for the Dec. 9 showdown vs. Gonzaga.
7. Arizona State
Last Season: 23-13, 11-9 in Pac-12
Preseason KenPom: No. 81
Pac-12 Media Poll: 6th
The Sun Devils are intriguing. It will be interesting to see if coach Bobby Hurley can pull another rabbit out of his hat. Nobody expected 20-plus wins last season in Tempe. Especially with a key starter booted two games in, but Hurley's squad delivered 23 victories.
It could be tougher sledding this year as ASU has complete squad turnover. The Sun Devils went "portaling" and we will see if Hurley can put the pieces together again. Frankie Collins, one of the few returners, is a phenomenal floor leader. He might actually benefit from having a few less cooks in the kitchen this season. But ASU is going to need a couple of transfers (See: Kamari Lands from Louisville and/or Jose Perez from West Virginia) to be needle movers right away.
Returner Jamaya Neal, who showed flashes of sensational athleticism last season has potential to be really good if he can take another step forward. LSU transfer Adam Miller being cleared by the NCAA would be a huge addition for the Sun Devils. If the Sun Devils mesh well early, they could win a good amount of their non-conference games leading into Pac-12 play.
8. Utah
Last Season: 17-15, 10-10 in Pac-12
Preseason KenPom: No. 101
Pac-12 Media Poll: 7th
Utah is capable of beating anyone in the conference on any given night. Craig Smith can coach. And Branden Carlson is one of the best players in the conference. The Utes have some tough players returning. One looming question mark surrounds whether Georgia Tech transfer PG Deivon Smith can get cleared to play by the NCAA (which would be a serious game changer for the Utes). Smith played his freshman season at Mississippi State, then transferred to Georgia Tech and is now in Utah.
The Utes were picked to finish seventh in the Pac-12 media poll, which seems about right. I have them eighth given the uncertainty around Smith's eligibility. But Utah is a potential trap game on the schedule for anyone, any night. One of the Utes toughest preseason tests will come against a rising St. Mary's squad.
---
They'll need to catch a break…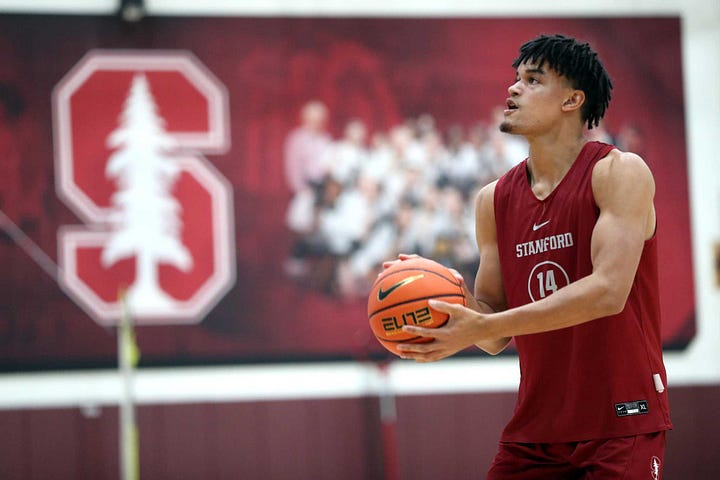 9. Stanford
Last Season: 14-19, 7-13 in Pac-12
Preseason KenPom: No. 42
Pac-12 Media Poll: 8th
Jerod Haase cannot afford to have another down year at Stanford. The Cardinal struggled last season, but started to put it together and played well late in the season. Losing Harrison Ingram to North Carolina hurt, but Stanford has Spencer Jones back. Joining him is transfer point guard Jared Bynum (Rutgers), and a pair of young newcomers in McDonald's All American Andrej Stojakovic (of the Sacramento Stojakovic's), and four-star recruit Kanaan Carlyle. Both are capable of making an immediate impact.
What does Ken Pom's machine know about Stanford that I don't? No idea, but I'm excited to find out. The Cardinal will have an early battle for the South Bay against Santa Clara, before really having their hands full with Arkansas in the Bahamas.
10. Oregon State
Last Season: 11-21, 5-15 in Pac-12
Preseason KenPom: No. 175
Pac-12 Media Poll: 12th
The pundits are predicting another rough year for the Beavers. Coach Wayne Tinkle caught lightning in a bottle last season with Jordan Pope, and Tinkle's biggest recruiting win of the offseason was getting Pope to stay in Corvallis.
I talked with Joey Fuca, a pro trainer in the Bay Area and Pope's coach at Prolific Prep. I asked Fuca how surprised he was that Pope stayed at OSU in this new world of the transfer portal and NIL.
Said Fuca: "Not surprised at all. Jordan is just extremely loyal. That is 100 percent who he is."
In addition to Pope, the Beavs have 6-foot-9 Tyler Bilodeau and 6-foot-5 guard Dexter Akanno back. They also have Christian Wright and 7-foot-2 center Chol Marial, who battled injuries last year. Both appear to be healthy and ready to go.
When you look at what other Pac-12 coaches were able to do with the transfer portal this offseason, some of the deficiencies of the OSU roster are a little puzzling. The Pac-12 Media picked the Beavers last. I have them 10th.
An intriguing OSU player to watch will be DaJohn Craig, a late signee. Craig was enrolled at AIA Prep in Ohio, and was considered by scouts to be a high-major impact guy, who might be a year away.
Bryan Weakley coached Craig in the fall. I caught up with him and asked whether Craig could be an impact player this season at OSU.
"Absolutely," Weakley told me, "DaJohn is not only a really good player, he's one of the best people I have ever coached. He's tough, he's a great athlete, he works hard, and he is a high quality person."
I thought it was interesting that both prep coaches I spoke with made a point to note the character of the OSU players they coached. Coincidence? Or something there as it relates to culture? I like what that says about the type of person they are recruiting in Corvallis. The Beavers biggest non-conference test will be Baylor (Nov. 22).
11. Cal
Last Season: 3-29, 2-18 in Pac-12
Preseason KenPom: No. 146
Pac-12 Media Poll: 11th
If you aren't rooting for Mark Madsen this year, just get out. The Cal program invented new ways to go in the tank last year under Mark Fox. The new "Mark" in town is hoping to chart a new path through his unrelenting positivity.
Don't let Madsen's smile and optimism fool you. As someone who played in summer-league games with him years ago in a rickety San Ramon Valley gym (under the steely glare of legendary coach John Raynor) I can confidently say that whether you are a player or a brick wall, Madsen will run through you to get a win.
It's no surprise the early word out of Berkeley is that Madsen is emphasizing toughness and accountability. It will take some time to fix the mess he inherited in Berkeley, and early reports are they got smacked in a preseason scrimmage by a potentially very good Boise State team. But after last year's 29-loss season, there's nowhere to go but up.
Madsen is a culture builder, and has a great staff. There will be some new faces on the hardwood for the Golden Bears this season, including Jalen Cone (NAU) and Fardaws Aimaq (Texas Tech), who is very good.
Cal is in the process of appealing a waiver denial for transfer Jaylon Tyson, and if the NCAA does the right thing and clears him, Tyson would provide a real boost. As a lifelong Cal fan (and there are dozens of us!), I'm excited for the future under Madsen's leadership. I'm also excited for the Spanish recruiting pipeline Madsen will no-doubt build, due to his bilingual abilities.
12. Washington State
Last season: 17-17, 11-9 in Pac-12
Preseason KenPom: No. 84
Pac-12 Media Poll: 10th
Coach Kyle Smith's Cougars were sneaky-good last year. But the departures of Mouhamed Gueye (NBA), TJ Bamba (Villanova) and DJ Rodman (USC) are definitely going to leave a mark. Smith hit the transfer portal hard to replace the losses. Cougar fans will need newcomers Joseph Yesufu (Kansas), Isaac Jones (Idaho) and Division-II All-American Jaylen Wells (Sonoma State), along with JUCO transfer Oscar Cluff to step in and step up right away. I may have the Cougars listed No. 12 here, but the No. 9-12 spots are interchangeable.
---
I appreciate all who read, support, subscribe and share this new, independent, endeavor with friends. If you're not already a "paid" subscriber, please consider a subscription so you don't miss a thing:
If you'd like to give a gift subscription to a friend or family member:
If you'd like to donate a subscription for a senior citizen on a fixed budget:
This is an independent reader-supported project, with both free and paid subscriptions. Those who opt for the paid edition are providing vital assistance to bolster my independent coverage. Paid subscribers have full access to all of my posts.