Discover more from Bald Faced Truth by John Canzano
Columnist John Canzano on sports, college football, and more.
Over 36,000 subscribers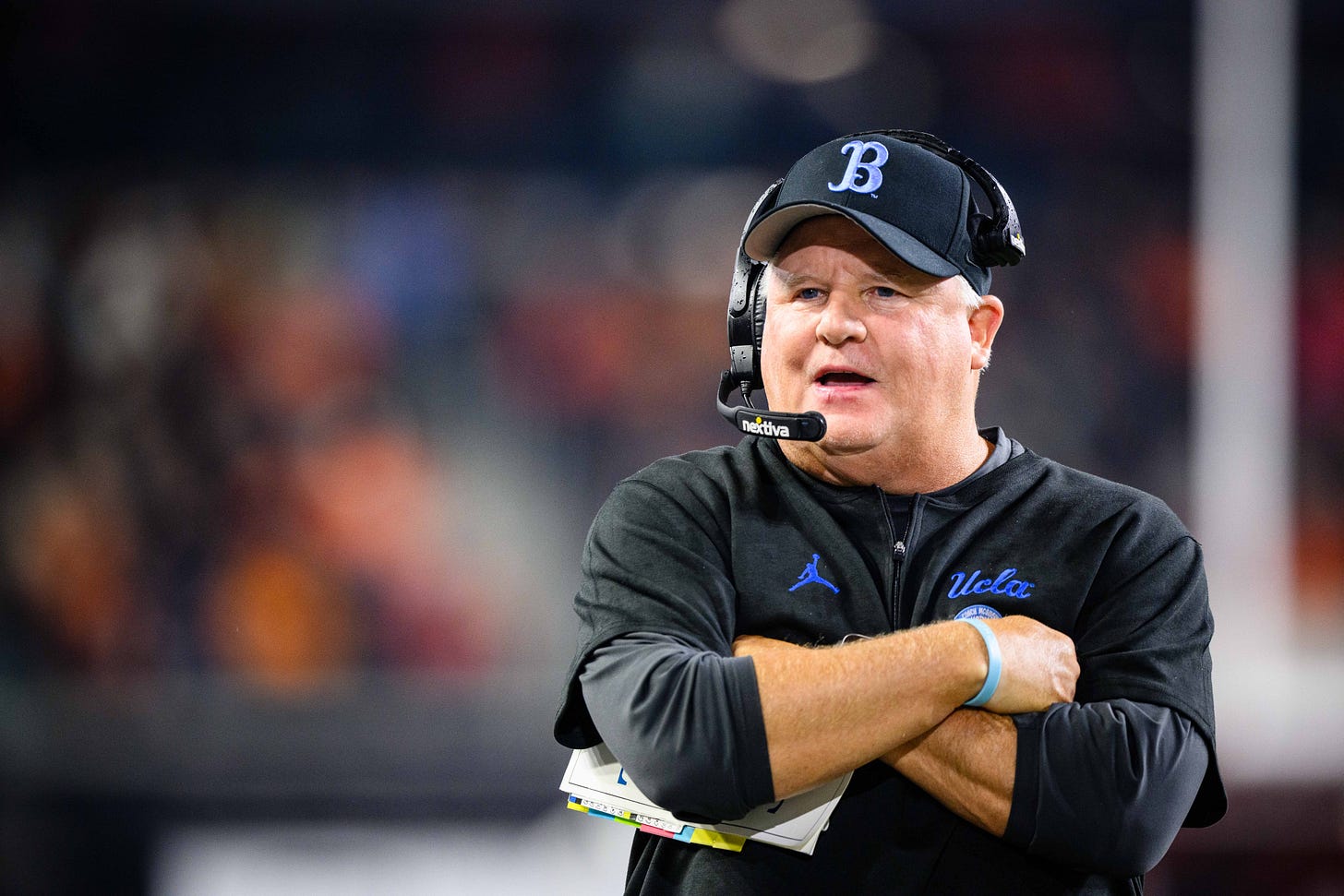 Chip Kelly doesn't want to be czar of college football, but he'd like to have access to the suggestion box.
"I think if you put Gene Smith, Greg Sankey, David Shaw and Chris Petersen in the room they could figure this whole thing out," Kelly said on Friday.
The UCLA football coach gave an exclusive and wide-ranging interview on "Canzano & Wilner: The Podcast." Kelly spoke candidly about the death of the Pac-12, the state of college football, the absurdity of realignment and healthy sleep habits. He also talked about his departure from Oregon to the NFL and what he learned from studying Navy SEALs.
UCLA is playing Stanford on Saturday. Kelly spent nearly 40 minutes with Jon Wilner and me talking about a variety of subjects during the podcast interview. It was a thought-provoking interview.
Kelly is smart. And he's done some deep thinking during his drives to work. What college athletics needs to do next is get the coach in a room and listen to him. His outside-the-box ideas have obvious obstacles. But most big and brilliant endeavors do.
Kelly on how good the Pac-12 football season is:
"It was something I thought going in because of how everybody finished last year. There were six or seven of us in the Top 25 and a lot of them had returning players so I knew we were going to have a pretty good situation. It's something that I probably expected. We played Washington and Oregon last year. They were both good teams. USC was a good team, Oregon State was a good team, Jake (Dickert) has done a good job at Washington State, I just knew it was going to be a battle."
On the death of the Pac-12 and realignment:
"It's sad. There's a lot of things wrong with college athletics, realignment being one of them. I understand it. It's 'chase the money' and that's what people are doing to support the athletics at the university. It's the administrative fiduciary responsibility to say 'Hey if we get a chance to make $75 million as opposed to whatever the number was supposed to be — $30 million,' I think you have to do it. But there are consequences to that."
On fixing college athletics:
"I wish all the smart people in athletics could get in a room and figure this out. Because I don't think it's that hard. I think the problem with the NCAA is they try to put everybody in the same box and I don't think we should do that because all our sports are different. So why is football treated like water polo? They try to do that but it just doesn't match. Even football at any level. Division III football and Power 5 football are drastically different. It should be run that way."
Does the sport of college football need a commissioner?
"Yes, I do. I really do. And I don't know if it's one or more than one. But I think there needs to be a committee and I also think that committee needs to have authority. Not just a de facto puppet regime, but this person has to have the ability to legislate and enforce."
On whether he'd want to be czar of college football:
"Oh no. No, no. One thing I think every human being needs to be is self aware. I am great at suggestions. If anyone wants them I'll give them. But if they don't want them, I'm fine too. There are some people who truly, truly care about the sport and want it to be what it could potentially be. It would benefit everybody. If every school made $75 million it benefits every sport. You've answered your fiduciary responsibility… I don't see a downside from it. You just need to think outside the box."
What would Kelly like to see happen?
"The model that I think is the best model is that Notre Dame is independent in football but they're in a conference for everything else. I think we should all be independent in football. Our basketball team should play Arizona every year. Our women's softball team should be playing Arizona every year. They shouldn't be playing Rutgers because football got a better deal. It just doesn't make sense. But no one asked my opinion. I just think of these things when I drive in every morning. I have it all mapped out."
On what 'Power 5' college football should do:
"My point would be if you took all 64 of those teams and went to the television networks and said 'This is our product,' I guarantee we'd all get a better TV deal than we have right now. So instead of the Pac-12 has this (media deal), the Big Ten has this (deal), the SEC has this (deal), you'd go as a whole thing. It wouldn't be as big as the NFL contract, but the NFL contract is really big and they have 32 teams. You can generate more games each week because you have 64 teams as opposed to 32 teams. And then take all that money, share it with everybody. I guarantee each school would make at least $75 million and then that money goes back to the school to run the other sports."
On what he learned from talking with Navy SEALs:
"Perspective. Admiration. They have dedicated their lives to serving others. When there's the sound of gunfire, the human inclination is to run from it. These people run toward it. The sacrifice they make, and some of them the ultimate sacrifice they make… it's amazing."
What would you change about college football itself?
"No night games. College football should be played on Saturday afternoon on every campus in this country like the old days. The tradition and history. As (former Oregon defensive coordinator) Nick Aliotti used to say, 'I want to get up, touch our toes and smash.' I don't want to wait around because that's the time slot we have. Let's get up and play ball."
What's on your nightstand? What are you reading??
"There's nothing on my nightstand. When I go home and go to bed, John, I go to bed. One thing I'm really, really good at — and I've spent a lot of time researching it and studying it — I am a great sleeper. When I go to my bed, I am going to bed. Like, I'm not going to my bed saying 'Hey, I'm going to read this and I'm going to take my time.' I can fall asleep anywhere. I will fall asleep today before the plane takes off. I can sleep on a plane. I know I have a nap from LAX to SFO. I know I have an hour nap coming up."
On whether he left Oregon for the NFL at the right time:
"I have no idea. That's a great question. My decision to leave is the toughest decision I've ever made because of people… leaving Nick (Aliotti), leaving Gary Campbell, leaving Mark Helfrich and Steve Greatwood and all those coaches… and leaving the players. When I had to tell them I was leaving, I cried."
Listen to the full podcast with Chip Kelly here:
---
I appreciate all who read, support, subscribe and share this new, independent, endeavor with friends and families. If you're not already a "paid" subscriber, please consider a subscription so you don't miss a thing:
This is an independent reader-supported project, with both free and paid subscriptions. Those who opt for the paid edition are providing vital assistance to bolster my independent coverage. Paid subscribers have full access to all of my posts.