Discover more from Bald Faced Truth by John Canzano
Columnist John Canzano on sports, college football, and more.
Over 36,000 subscribers
The hardwood floor at C.C. Perry Gymnasium bends and gives when you bounce a basketball on it. The spring in the natural wood is impossible to miss. So are the celebratory banners that hang from the walls of Warner Pacific University's home court. But it's the 4-foot-3 guard sitting at the end of the bench that I want to tell you about today.
They call her "Lexy."
I can't stop thinking about her.
When Alexa delos Reyes was 13 months old, she stopped trying to walk. She dragged her left leg on the ground instead. Her parents were concerned. Lexy's mother and father — Monica and Dante — took her to the Legacy Emanuel hospital, where doctors ordered an emergency MRI.
Brain tumor, they said.
Directly behind the optic nerve, they added.
"It's the scariest thing we've ever been through," Lexy's mom told me on Saturday afternoon.
I don't know if you need an uplifting story today. There's no telling what kind of week it has been for you. But I challenge anyone to hear about the journey of little Lexy and not walk away with big feelings about it.
She's 19 now.
Lexy has had 12 cranial surgeries in five different states. Her body has endured more than 1,000 MRIs. Her left side remains weak. She's been on chemotherapy for most of her life, participated in every cancer trial available, and relapsed 14 times.
When she was 9, surgeons in Boston were trying to remove Lexy's tumor when they came upon a thin, vein-like strand near the mass. Turns out her optical nerve had split to circumvent the tumor and save her vision.
The body does amazing things, doesn't it?
Surgeons hadn't seen anything like it before. They mistook the divided nerve for a blood vessel. It must be feeding her tumor, doctors decided. So they clipped it with a scalpel.
"I think that was the most difficult for her. If she wishes for anything, she wishes she could see again," her mother said. "There's nothing out there to teach you or prepare you for this. We leave with sight. Say 'goodbye' to my husband — and she comes home blind."
Matt Gregg is Warner Pacific's long-time women's basketball coach and athletic director. He stands 6-foot-10, wear glasses, and casts a towering figure on the NAIA campus. I found Gregg on Saturday in his gym office, 90 minutes before tip, loading a crockpot with pulled pork for the team's post-game meal.
"When I see Lexy it changes my whole mindset," he said. "She has a tough life. It's sad and heartbreaking. But she adds so much encouragement to everyone else."
A decade ago, Gregg opened the doors for Lexy. He invited her to sit on the bench during games. He eventually asked Lexy to sign a letter of intent. Warner Pacific even held a ceremonial signing day in the campus chapel, complete with pompoms.
Gregg gave her a jersey. All these years later, she's still there at games, in her No. 6 uniform, listening for the sound of the ball on the floor and cheering for her teammates.
"Coach makes sure she feels part of the team," her mom said. "The only thing she isn't doing is playing."
Lexy woke on Saturday morning, particularly energized. Her team, battling through a disappointing 0-13 season, had plans to honor her that evening. They'd wear special jerseys with "LEXY" on the back for their game against Walla Walla University.
Said Lexy, on Saturday afternoon: "I think we are going to kick their booty."
Before leaving for the gym, she got dressed in her uniform. Then, Lexy's mother helped her pull on her size-five sneakers. She normally wears a size 2 shoe, but Lexy's cocktail of prescription drugs (15 medicines at night and 10 more in the morning) have caused her body to swell.
"Basketball is everything to her," mom said.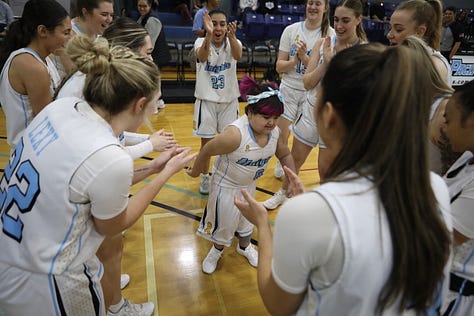 Dante and Monica delos Reyes are both musically inclined. They were in bands in their early 20s. In fact, it's how they met.
Monica's band was playing the Red Lion Inn circuit, moving from hotel to hotel, in the United States and Canada. She wasn't much older than Lexy is now when she met her husband. They fell in love, formed a band of their own called "City Lights." The cover band toured for a while, but they eventually settled in the suburbs where they had a couple of children.
"We still do a lot of singing as a family," mom said.
Lexy's older brother Cameron is 23. He's musically gifted, too. Lexy's mom told me on Saturday that one of her daughter's favorite things to do is to put on music and dance around the room. Lexy also loves the movie "Despicable Me" and cooking with her grandmother.
Medical bills have piled up. But the family gets by. They live in Gladstone, drive a red 2005 Dodge Durango, and make ends meet. Dante retired and helps with his daughter's care. Monica got licensed and became Lexy's primary caretaker.
"We can't live like we would want to, but we survive," Monica said. "I have my mom around. We have a very small circle. We all get by. We just don't have any big expectations."
On Saturday night, things didn't go as planned. They often don't in life. Lexy and her family had a difficult time getting out the door to go to the game.
It's sometimes like that.
"Even when she's tired and sick," her mom said, "she throws up then just gets ready to go and cheer."
That red Durango pulled into the gymnasium parking lot in time for the team prayer. Lexy led it. Then, she took her spot alongside her teammates for player introductions.
Knights' forward Alexa Mee told me on Saturday: "Lexy isn't just part of this team. She's the most important part of it."
An hour before tip, I watched Lexy's teammates warm up. They're a collection of college kids, trying to get degrees, live life, and win basketball games. There are a handful of in-state players on the roster, and some others from Idaho, Nevada, Utah and Hawaii. But for a decade now, the women's basketball players at Warner Pacific have one thing in common — Lexy.
She's small in stature. It's what people notice first. But when you talk with anyone who has spent time around Lexy delos Reyes they use words such as "big" and "bigger" and "biggest."
Big heart.
Bigger than basketball.
Biggest voice in the gym.
"Pacific Bible College" was founded in Spokane, Wash. but moved operations to Portland in the 1940s. It changed its name to Warner Pacific in 1959. The current student body — enrollment 692 — is an interesting study.
Roughly 40 percent of students participate in a sport. More than 60 percent are women. Lexy isn't enrolled. She doesn't attend classes. She takes braille-focused coursework on her computer at home. But this private Christian campus has put its arms around her just the same.
The Knights made Saturday Lexy's night. Her jerseys. Her name announced with the starting lineups. A giant photo of Lexy projected on the gymnasium wall. Then, the game tipped off and Lexy found her spot near the end of the bench.
I wish I could tell you that Warner Pacific won its first game of the season on Saturday. I wish I could say that the Knights shot well, defended, and walked off with a victory. But they struggled to score in the first half and got beat by Walla Walla 44-37.
They're now 0-14.
I asked Lexy on Saturday what she enjoys most about being part of a college basketball team. She said: "Everything." Then, I asked her what she'll do when that team gets its first win of the season.
Lexy said: "I'll dance and scream."
The Knights of Warner Pacific University will try again on the road next Friday night against Northwest University in Washington. The following night, Lexy's team will play at The Evergreen State College. Then, it's back home for a couple of home dates.
Winless?
Some say so.
But I'd argue that Lexy's team is winning in bigger ways.
---
I appreciate all who read, support, subscribe and share this new, independent, endeavor with friends and families. If you're not already a "paid" subscriber, please consider a subscription or a gift subscription for someone else:
This is an independent reader-supported project, with both free and paid subscriptions. Those who opt for the paid edition are providing vital assistance to bolster my independent coverage. Paid subscribers have full access to all of my posts.