Discover more from Bald Faced Truth by John Canzano
Columnist John Canzano on sports, college football, and more.
Over 36,000 subscribers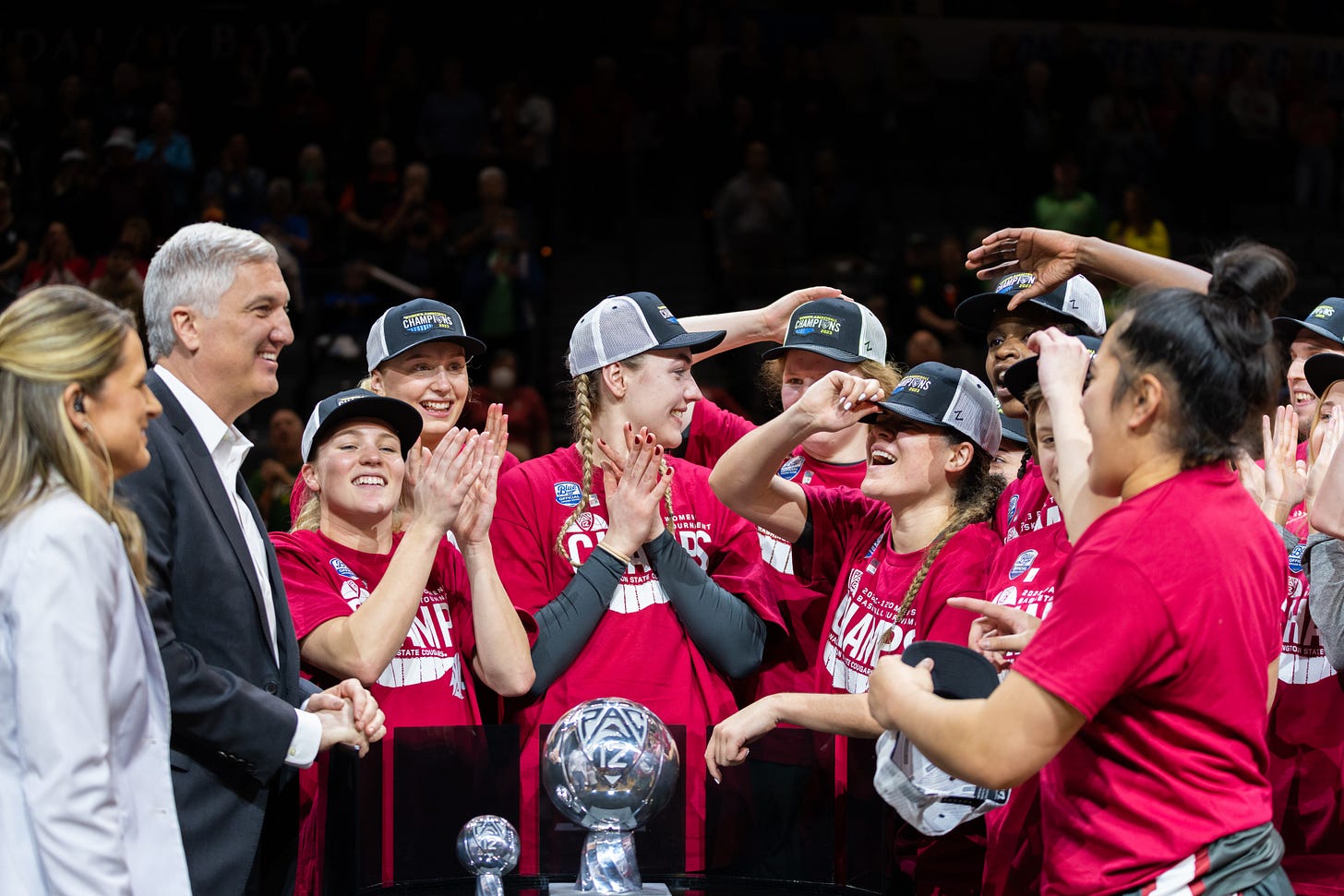 Ann Schatz is an Emmy-award winning play-by-play broadcaster. You'll find her in the coming months on a variety of television networks calling women's college basketball games, including ESPN and the Pac-12 Network.
Schatz has been on the job for more than four decades, knows a winner when she sees one, and has a keen eye for the intangibles that help a school elevate when it counts. I asked Schatz to take a look at the Pac-12 women's basketball landscape and provide an early-season assessment. She ranked the teams in projected order of finish and sees three clear tiers of competition.
Who got better for 2023-24? What new faces should you be excited about? And what are the biggest concerns, obstacles and questions each team faces?
I'll let Schatz take it from here:
The contenders…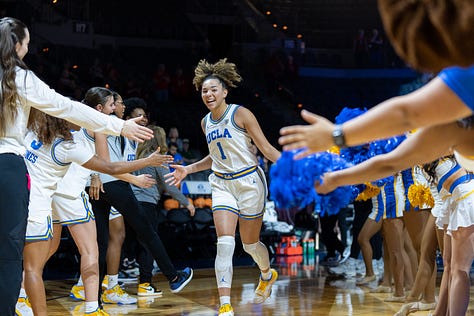 1. UCLA
Record last season:
27-10, 11-7 in Pac-12
Pac-12 Preseason Coaches Poll:
2
Preseason Media Poll:
2
The Bruins have the best backcourt in the league and the addition of Lauren Betts (who transferred from Stanford) is huge. Massive. Biggest question: Can UCLA stay healthy? If it can, it would buck a troublesome trend. The Bruins are going to be really good. I have no concerns about UCLA if it can stay healthy.
2. Utah
Record last season: 27-5, 15-3 in Pac-12.
Pac-12 Preseason Coaches Poll: 1
Preseason Media Poll: 1
The Utes have one of the top-two players in the league in Alissa Pili. She is an absolute beast. A linebacker with the feet of Nureyev. Coach Lynne Roberts has depth to surround Pili and they're poised to make a big run. Biggest question: Can Utah's point guards maintain the big assist/turnover ratio they had last year?
3. USC
Record last season: 21-10, 11-7 in Pac-12.
Pac-12 Media Poll: 6
Preseason Media Poll: 6
It was just a matter of time before head coach Lindsay Gottlieb got her club back in the national conversation. Gottlieb returns to the women's game after a successful stint as an NBA assistant in Cleveland.  
When she landed freshman JuJu Watkins everything changed. The phenom lit up Ohio state for 32 points to open the season. Expect big stuff from her. USC also has Rayah Marshall patrolling the paint, blocking shots, and grabbing rebounds. Biggest question: If Watkins has an off night or Marshall isn't feeling it… who will step up?
4. Colorado
Record last season: 25-9, 13-5 in Pac-12.
Pac-12 Preseason Coaches Poll: 4
Preseason Media Poll: 4
The Buffaloes shocked the world with an upset win over No. 1 LSU to start the season. They dominated Kim Mulkey's Tigers for much of the game. JR Payne is a magician with her teams. Her players bust their butts every night. No five-star recruits, no McDonald's All-Americans. Just under-the-radar grinders who love to play and love to play for each other. This bunch made it to the Sweet 16 last year and gave Iowa and Caitlin Clark all it could handle.
The belief in the locker room, with so many returners, is real. My biggest question: This team shoots itself in the foot on occasion. It has a tendency to occasionally go flat. The veterans on the roster need to guard against that.
5. Stanford
Record last season: 29-6, 15-3.
Pac-12 Preseason Coaches Poll: 3
Preseason Media Poll: 3
Crazy to not see Stanford atop any list concerning Pac-12 preseason polls. The Cardinal were picked third by both media and the coaches. But the conference is crazy deep.
Stanford has one of the top players in the country in Cameron Brink. The 6-foot-4 Brink played her high school ball in Beaverton. She's a unicorn who WNBA scouts are drooling over. Brink and Hannah Jump are going to have to be great every night. And some of the five-star freshmen are going to have to make immediate impacts. My biggest concern? Stanford has lost a bit of its swagger and lost some talent to the transfer portal.
---
They have a puncher's chance…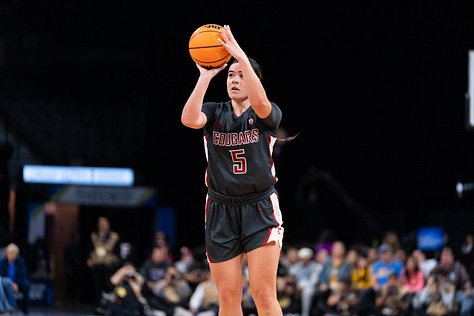 6. Washington State
Record last season: 23-11, 9-9 in Pac-12.
Pac-12 Preseason Coaches Poll: 5
Preseason Media Poll: 5
The Cougars are the defending Pac-12 women's basketball tournament champions. Their run last March in Las Vegas as a No. 7-seed was something to behold. They were the first such seeded team to win the tournament. Their "money" player, Charlisse Ledger-Walker, is back. The kiwi is one of the most dynamic scorers in the league and country. As she goes, so goes WSU. Ledger-Walker literally does everything for them. She's got legit help down low in Bella Murekatete but graduation and a season-ending injury to Johanna Teder could hurt the night-in and night-out consistency. WSU can be very good or very average, given the night. My big concern: If Ledger-Walker has an off night, they're toast.
7. Arizona
Record last season: 22-10, 11-7 in Pac-12.
Pac-12 Preseason Coaches Poll: 7
Preseason Media Poll: 7
It has been a few years since the Wildcats have factored in the Pac-12 race. That's not going to happen this season but they've got a legit shot to make the NCAA Tournament. That's if Esmery Martinez and Helena Pueyo can carry the freight. Maya Nnaji's improvement could make a huge difference for the Wildcats, too. And they've got some coveted young players coming in. My concern: This is a club that can underachieve and leave winnable games on the floor. Arizona's inconsistency can be maddening.
8. Oregon State
Record last season: 13-18, 4-14 in Pac-12.
Pac-12 Preseason Coaches Poll: 10
Preseason Media Poll: 9
I love OSU's bigs. Raegan Beers and Timea Gardiner are the real deal and play with wisdom beyond their years. Can the OSU backcourt compliment them? Talia Von Oelhoffen played hurt most of last year and had to shut down her season late. She was a shell of herself. Oregon State says their All-Conference guard is now healthy and she'd better be because the Beavers can't win without her scoring.
9. Oregon
Record last season: 20-15, 7-11 in Pac-12.
Pac-12 Preseason Coaches Poll: 8
Preseason Media Poll: 8
The Ducks lost their starting backcourt to the transfer portal in the offseason. But Chance Gray and Grace VanSlooten return. As does rim protector Phillipina Kyei. Those three are proven starters and contributors. Miami (OH) transfer point guard Peyton Scott suffered a season-ending knee injury in Monday's 81-48 win over Northern Arizona. Scott suffered the injury only five minutes into her Oregon debut. Kelly Graves and the Ducks are going to need someone to step up in the backcourt.
10. Washington
Record last season: 19-15, 7-11 in Pac-12.
Pac-12 Preseason Coaches Poll: 9
Preseason Media Poll: 10
Tina Langley has resurrected Washington hoops. She's soft-spoken, humble, kind and has a great basketball mind. She's done great things since coming to Seattle from Rice University. UW has lots of returners back and this team plays so so (bleeping) hard for each other. No divas. No drama. It's a love-fest in Huskyland. My big question: The Huskies are undersized and can struggle to score. Superior teams will expose them.
---
They'll need some help…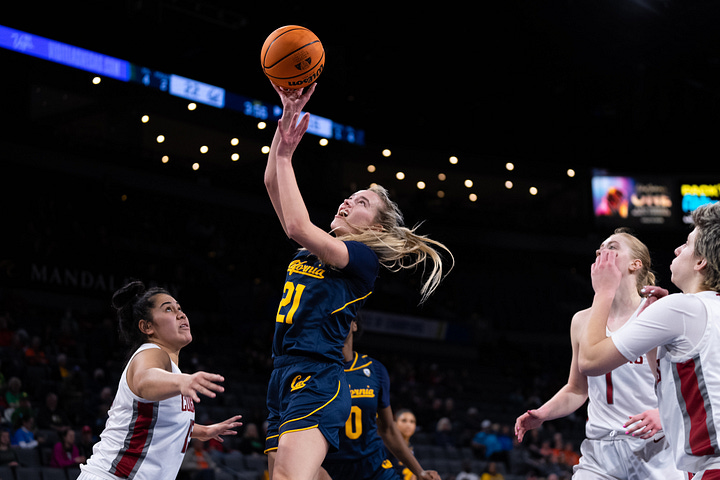 11. Cal
Record last season: 13-17, 4-14 in Pac-12.
Pac-12 Preseason Coaches Poll: 11
Preseason Media Poll: 11
The Golden Bears cannot be circled by opponents on the schedule as an automatic win. Charmin Smith has been fighting for traction, year after year. Despite losing the leading scorer, Jayda Curry (to Louisville) in the portal, Cal has some really strong returners (Leilani McIntosh, Kemery Martin) and some really solid transfers who are joining. I think Cal has the potential to surprise. My big concern: The transfers coming in must elevate their games to Pac-12 play. Immediately. That could be asking too much.
12. Arizona State
Record last season: 8-20, 1-17 in Pac-12.
Pac-12 Preseason Coaches Poll: 12
Preseason Media Poll: 12
A major injury has already hit the Sun Devils (guard Tyi Skinner will miss the 2023-24 season due to a knee injury) and once again ASU is picked to finish at the bottom of the heap. This will be Natasha Adair's second season (replacing Hall of Fame head coach Charli Turner-Thorne) so this is going to take a while and Skinner's absence is going to be huge. Some nice pieces return and some solid transfers will definitely help. My big concern: Losing is in ASU's muscle memory. I'm not sure that changes this year without Skinner on the court.
---
I appreciate all who read, support, subscribe and share this new, independent, endeavor with friends. If you're not already a "paid" subscriber, please consider a subscription so you don't miss a thing:
If you'd like to give a gift subscription to a friend or family member:
This is an independent reader-supported project, with both free and paid subscriptions. Those who opt for the paid edition are providing vital assistance to bolster my independent coverage. Paid subscribers have full access to all of my posts.