Discover more from Bald Faced Truth by John Canzano
Columnist John Canzano on sports, college football, and more.
Over 36,000 subscribers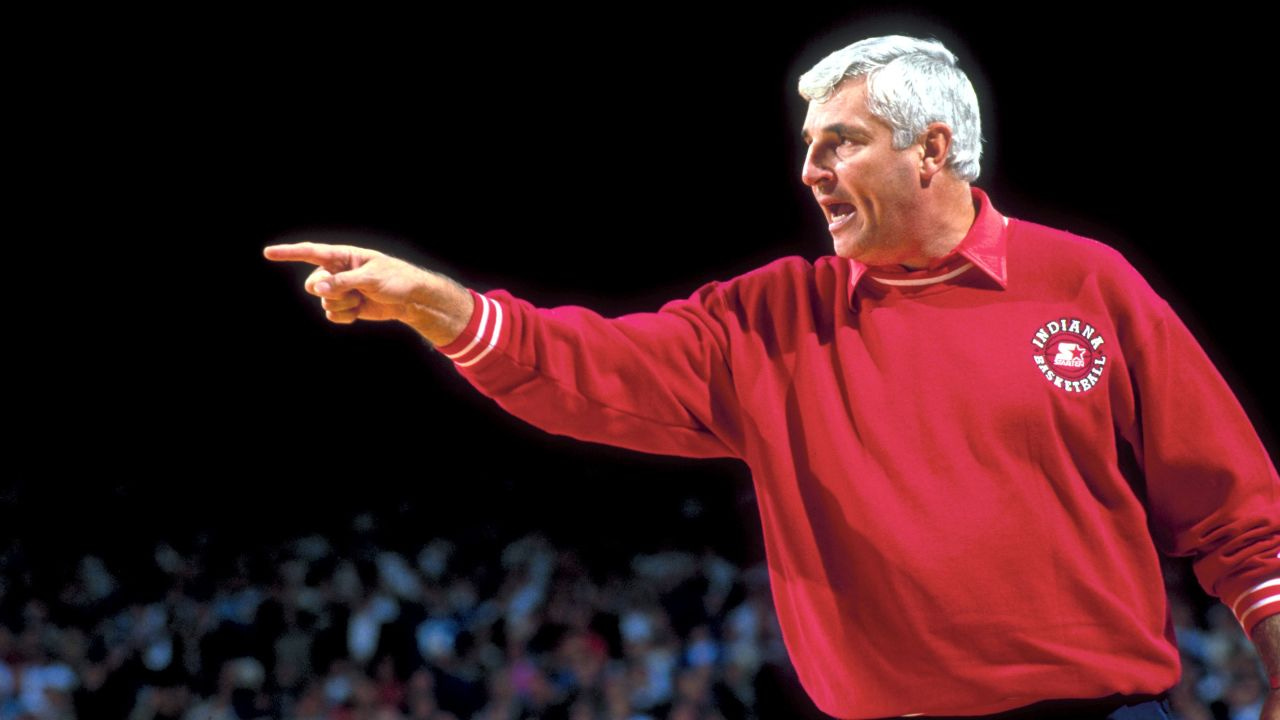 I worked only one season on the Indiana University men's basketball beat. I spent six months covering Bobby Knight. I was 27. And when Jerry Tarkanian heard that I'd covered Knight he summoned me to a wooden bench in the gymnasium at Fresno State, sat down beside me, and asked: "What was it like?"
So I told him.
Prior to flying to Indiana with only a jacket and a small suitcase, I'd worked for a couple of small daily newspapers in California. I'd mostly covered high school sports, community colleges, Little League games, and occasionally got to sit in the press box at Candlestick Park and write about the 49ers.
One of the schools in the region — Santa Cruz High School — had a terrific basketball coach. Pete Newell Jr. was the son of a Hall of Fame coach. His father, Pete Sr., didn't just take Cal to a national championship in 1959 and lead the US team to a gold medal in the 1960 Olympics, he was Bobby Knight's mentor.
Newell Sr.'s wife, Florence, drew particularly close to Bobby. He was like her fifth son. In fact, more than one of the four Newell children told me that the Indiana coach would often call the house and ask for Florence — not Pete Sr. — and talk for an hour on the phone.
Pete Sr. was always good to me. I called him a few times in those early years, asking questions about the NBA shot clock and the health of college basketball. Newell was a terrific resource for a young reporter. But before I made the trip to campus in Bloomington, Ind. in the fall of 1998, I called Newell and asked for some advice — what do I need to know about Bobby Knight?
Newell told me all about the Indiana University coach. He explained how disciplined and loyal Knight was with his players, particularly long after they'd graduated. He talked about each of Knight's three national championships. And before we hung up Newell instructed that I should ask Knight a very specific question the first time I encountered him.
It was: "Can you win in today's game with a back-to-the-basket center?"
I did exactly that, word for word.
Knight listened to my question, then peered back at me, studying me, before he answered.
"That's the best damned question of the day," he said. "I did not expect to come here and get such a good question from a media member. If I didn't know any better I'd bet that you didn't come up with that on your own."
Newell had blessed me to his pupil.
Knight died this week. He was 83. I've done a lot of thinking about the time I spent on the beat that season.
At the first news conference on campus at Indiana, I noted how large Knight was in physical stature. He was much taller and wider than he appeared on television. He stood 6-foot-5, had broad shoulders, white hair, and wild eyebrows that looked like they'd been thrown like darts and stuck to his face.
The room where Knight did his post-game news conferences had a small, raised platform, maybe six inches tall. The coach would stand on it when he was fielding questions. Knight looked like Goliath behind that lectern. And the writers were mostly seated in those tiny, L-shaped desks in front of him, like students in a college classroom.
I refused to sit, choosing to stand off to the side.
I knew what he was doing.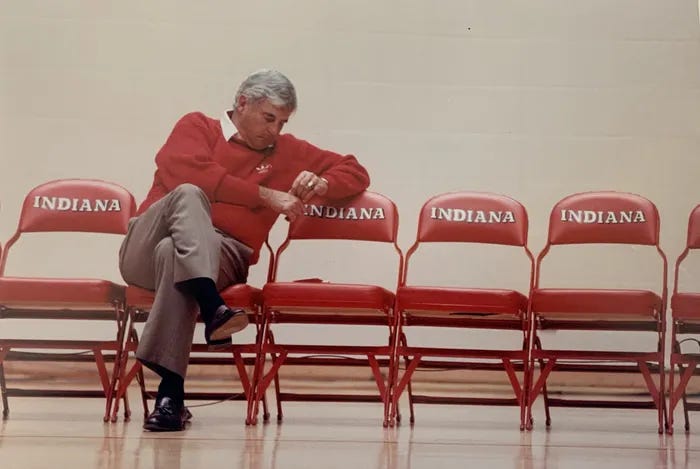 Knight was a complicated subject. I expected to see folding chairs tossed that season and players terrified of him, but I mostly remember the IU coach as a demanding, intense, passionate teacher of the game who had no patience for nonsense. He loathed dumb questions. I know, I asked a few of them.
His former players showed up in droves for games. They sat in the stands at Assembly Hall, and Knight would often acknowledge them on his way on and off the court. And once after the Hoosiers had played really well, one reporter asked Knight about a play he'd drawn up during a timeout.
The coach was in rare form that Saturday afternoon. He dove into an intricate explanation, and every player's assignment, using several reporters as props. It was like hearing da Vinci talk about painting.
Knight could be intentionally difficult. Once, the coach walked into the post-game news conference, and barked: "Anybody got a question?" I looked up from the stat sheet to ask one and saw Knight already exiting the room.
He could be verbally abusive — or kind — depending on the moment. I once saw the coach spike a clipboard in frustration during a game. And after a last-second win that season, Knight sent two players who hadn't played a single minute in the game to answer our questions in the post-game news conference.
Lots of coaches have wanted to say "F**k you!" to the media.
Nobody did it better than Knight.
I'd read John Feinstein's terrific book, "A Season on the Brink," on the plane trip from California to Indiana. I wanted to be prepared. But Knight ultimately did the teaching. He taught me to pay attention to detail, never turn off my tape recorder, and to judge through my own experiences, not what I'd read or seen on television.
I learned how to navigate a high-profile beat that season. Knight taught me how to deal with difficult subjects. On road trips, I made a habit of walking with IU players he hadn't sent to the news conference as they were heading to the bus. I got better quotes. And I understood, over a few short months, that the best characters to write about were complex, flawed and occasionally misunderstood.
Knight's persona was gnarled and full of knots. He was amazing — and terrible — to deal with at the same time. There were no boring moments. Anyone in a rush to capture the coach's motivation risked missing the beauty of that. Knight was simultaneously one of the best coaches who ever lived, loyal to a fault, and a guy you'd want to steer clear of when he was having a bad day.
Above all, he was authentic.
That one season on the beat ended when Indiana got clobbered by 25 points by St. John's University in the NCAA Tournament. Ron Artest had 13 points, five steals and four assists against the Hoosiers. The post-game news conference was a microcosm of Knight's range.
In one moment Knight said:
"They're just a lot better team than us. That's just a better basketball team than we've got. If we played them five more times I'm not sure we could beat them. Artest is as good a kid as I've ever watched at keeping everybody involved and talking to kids. The guy really is impressive."
In the next moment, Knight offered:
"When my antagonists agree with me then I'll think I'm in trouble."
Later that spring, a tornado ripped through 30 counties in the middle of Tennessee. A woman named Patti Haston was among those killed. Her son, Kirk, was a 6-foot-10 underclassman who started for Indiana in the final game of that season.
It was a terrible story. I reached out to Knight for a comment on the tragedy. A spokesperson at IU told me he wasn't available. The season was over. I figured Knight had gone hunting or fishing.
Later, I found out from Newell that the basketball coach had rushed to Haston's side in the early morning. Then, the Indiana basketball coach insisted on driving Haston all the way back to Tennessee himself. He didn't want the kid to make the drive alone.
Jerry Tarkanian liked that part best of all.
---
I appreciate all who read, support, subscribe and share this new, independent, endeavor with friends and families. If you're not already a "paid" subscriber, please consider a subscription so you don't miss a thing:
This is an independent reader-supported project, with both free and paid subscriptions. Those who opt for the paid edition are providing vital assistance to bolster my independent coverage. Paid subscribers have full access to all of my posts.