Discover more from Bald Faced Truth by John Canzano
Columnist John Canzano on sports, college football, and more.
Over 36,000 subscribers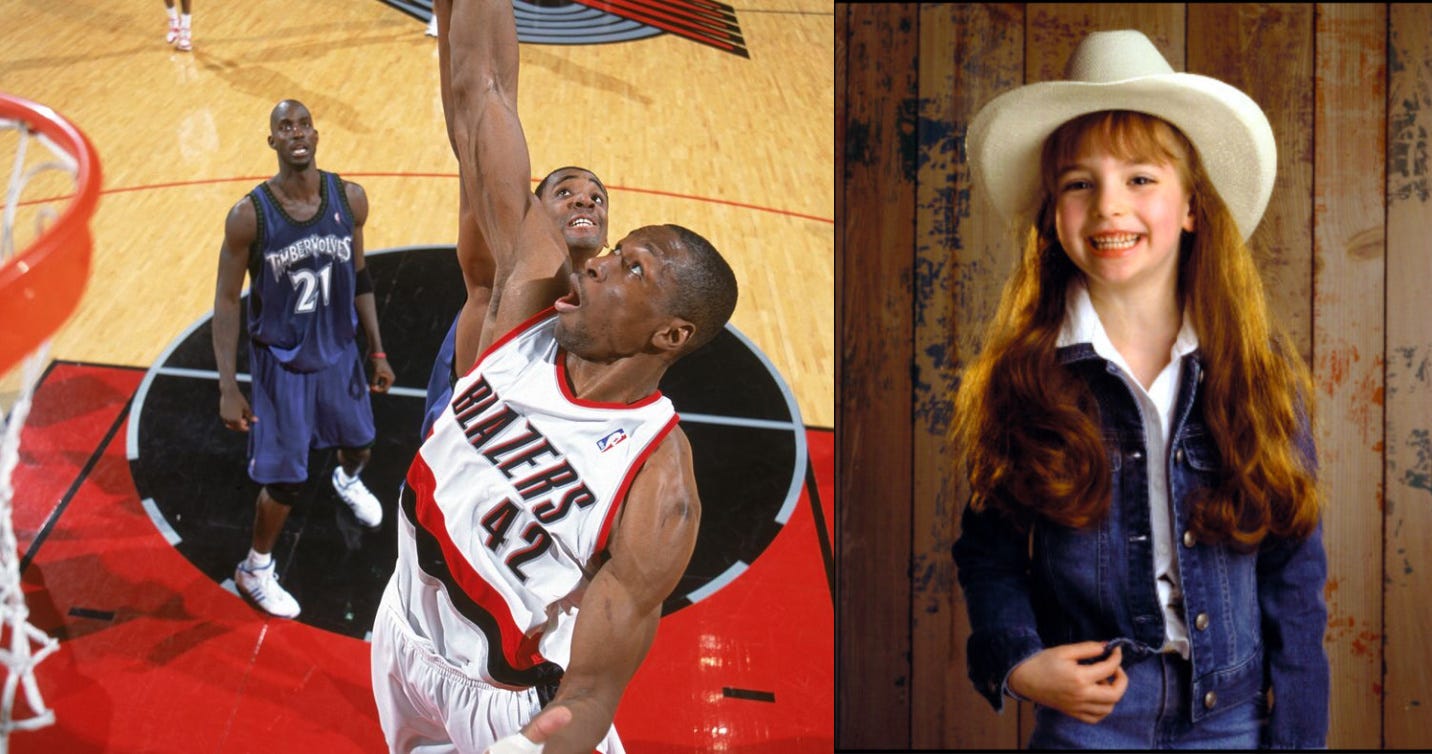 Professional basketball is a business. We all accept it. But when the Trail Blazers traded Theo Ratliff to Boston in June 2006, Victoria Roberts' parents didn't tell her.
She'd been through enough already.
"I didn't have the heart to do it," her father, Chuck, told me that summer.
Victoria was only 7 at the time. She had two dogs and wore her long, brown hair in thick, braided pigtails. I visited the little girl and her family a half-dozen times back then because she'd been dealt a terrible hand.
"Aplastic anemia," doctors said.
It was rare. Nobody knew what caused it. But that deadly blood disease put Victoria in the hospital and threatened her life. Her parents were teetering on bankruptcy. They downsized their home in rural Oregon and sold one of their cars. They not only faced a pile of medical bills, they needed to raise an additional $350,000 for a bone-marrow transplant that might save their daughter.
"How much do you have right now?" I asked her dad on their front lawn.
"Maybe $30,000," her dad told me.
There are lots of times that I look around and think about how silly my job is. I write columns about sports. I cover games. I report and give my opinions. It feels trivial some days, particularly with wars being fought and a kid like Victoria facing her mortality.
By the time I met Victoria she was so sick she could hardly remember what it felt like to be healthy. I wrote a series of columns about her over a couple of years. She missed school and her friends. Her parents told me that she'd spent more than 100 days in the hospital in the year before we crossed paths.
Victoria's face was swollen from the drug cocktail doctors put her on. She'd gained 35 pounds between her sixth and seventh birthday. Her arms and legs were bruised from anemia. And her resting heart rate was 140, twice what it used to be.
My readers put their arms around her.
Mike Scanlon, who was managing what was then called the Rose Garden Arena, read my columns about her. He donated luxury suites to NBA home games. We auctioned them off on my radio show. And when Scanlon found out that doctors said it was too risky for Victoria to go see 4th of July fireworks in a public setting, he called a pyrotechnic company and arranged a private show in her front yard.
"I'm probably like everyone else," Scanlon told me at the time, "I get up with a headache and I'm moaning and groaning all day. Victoria never had a bad day in this ordeal."
My wife was a television anchor and reporter at KATU-TV at the time. She covered Victoria's story, too. She put a camera on Victoria and the hearts of viewers melted all over their living rooms.
A local preschool held a yard sale and sent a check for $4,500. An elementary school held a walk-a-thon and raised $1,600. Students at a summer vacation bible school sent in $2,500 after conducting their own fundraiser. And there was a Little League team — the Sherwood Cobras — which collected donations one Saturday and sent $160.
Within days, the list of donors to Victoria's fund included 534 names from dozens of states. I scanned it. A couple of names — Theo and Kristina Ratliff — jumped off the page.
The Ratliff family had arrived in Portland in early 2004 under less-than-ideal circumstances. Theo, a 6-foot-10 shot-blocking center, was part of a February trade that signaled the end of the Rasheed Wallace-era of Blazers basketball. The transaction was called a "watershed moment" by Portland general manager Steve Patterson. Turns out Victoria was the real winner.
Ratliff and his wife had young children of their own. They visited with Victoria and told her in so many ways that her life was important. Maybe best of all, the Ratliffs drew more attention to her cause, fueling additional donations.
Teammate Darius Miles wrote a check. So did guard Juan Dixon. But I'll never forget the sight of the towering Ratliff and his smiling wife standing on Victoria's front lawn, handing her a Dr. Seuss book with a $35,000 check stuck between the pages.
That book's title: "Oh, the Places You'll Go!"
The start of this NBA season got me thinking about Victoria. It always does. Where did she go? How was she? What happened to the brown-eyed girl who smiled through hundreds of treatments, including a stem-cell transplant derived from cord blood in 2009?
Victoria Roberts is 24 years old now.
"It took a really long time," she told me this week, "but I got better."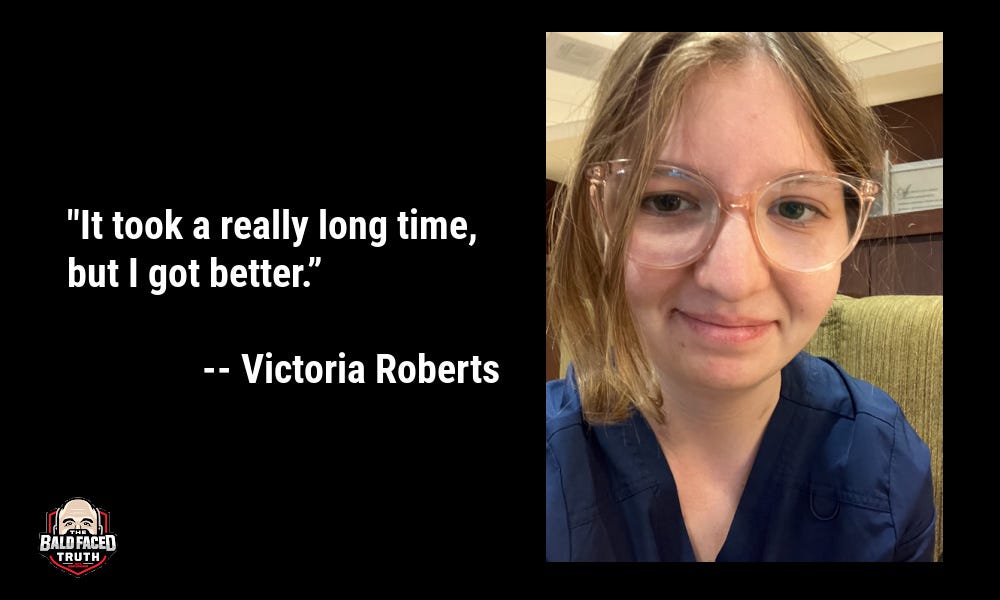 She went back to school and made friends. Victoria's immune system recovered. She joined theater in high school and went to prom. And for four years of high school, she suited up and participated on the school's swim team.
"I really wasn't a great swimmer," she told me, "but I really wanted to get involved. I missed so much school. I loved school. It was nice to be healthier and get back to normal."
Victoria and I spoke for 20 minutes on the telephone this week. She's doing well and is healthy. She graduated from a nursing program last spring and is working at a local hospital. And it will come as no surprise that Victoria wants to specialize in oncology.
"Obviously," she said, "there's some sentimental attachment."
Ratliff is retired now. He played 16 NBA seasons. He and his wife run businesses. Their six children are healthy, active, and successful. But I keep thinking about the assist Theo Ratliff gave to Victoria Roberts all those years ago.
He came up big, didn't he?
Lots of people did.
"I only remember bits and pieces of that time," Victoria told me this week, "but I remember how kind that gesture was from him. He barely knew me. I'm just some kid.
"Holy heck that meant a lot."
---
I appreciate all who read, support, subscribe and share this new, independent, endeavor with friends and families. If you're not already a "paid" subscriber, please consider a subscription so you don't miss a thing:
This is an independent reader-supported project, with both free and paid subscriptions. Those who opt for the paid edition are providing vital assistance to bolster my independent coverage. Paid subscribers have full access to all of my posts.