Canzano: Mailbag includes early Heisman ballot, Nix vs. Penix Jr., Pac-2 discovery... and bias
Your questions, my answers.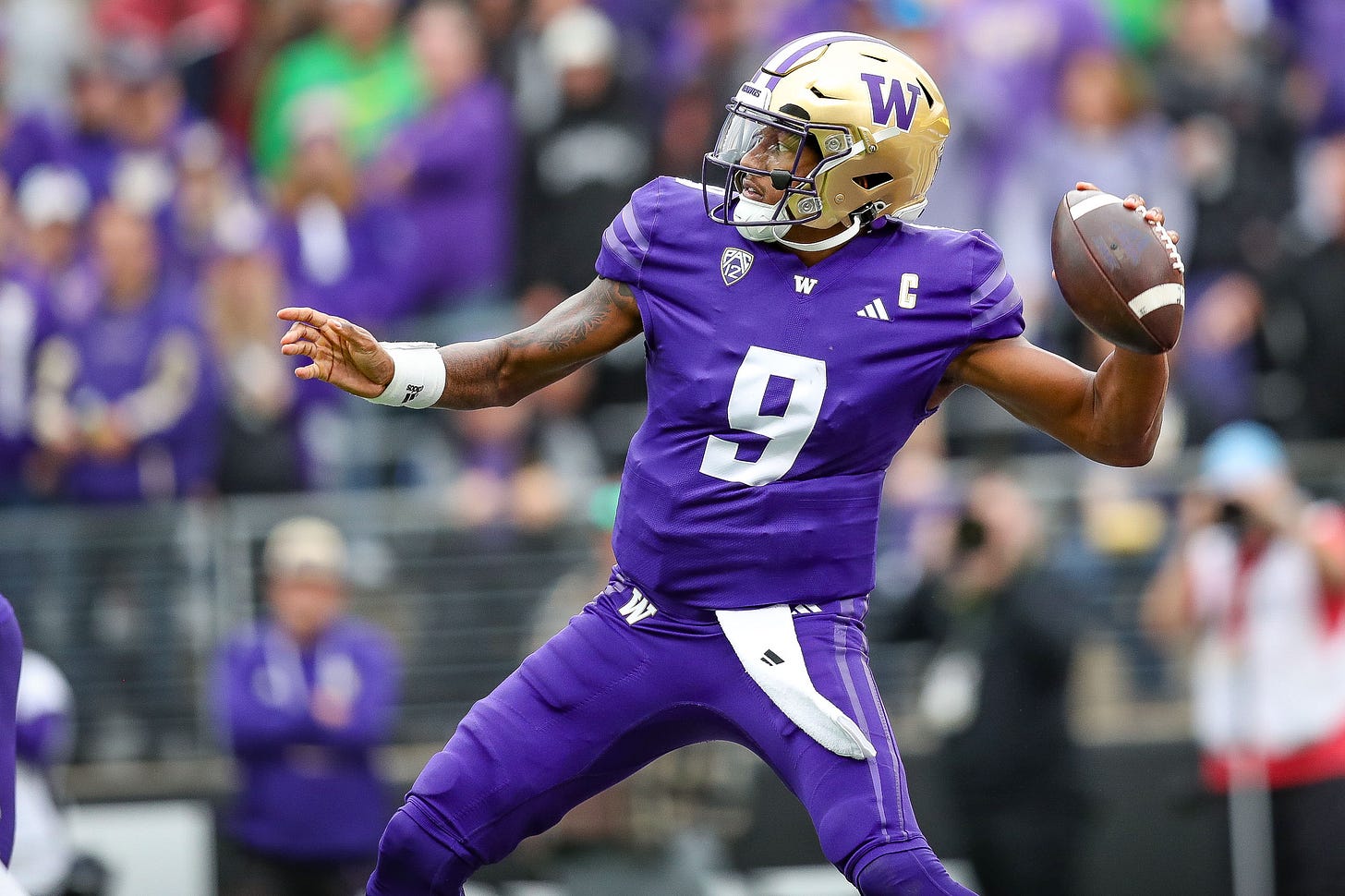 I have a Heisman Trophy vote. Last season, I put Michael Penix Jr. in second place on my ballot. Later, I found out only eight percent of the 929 voters included the University of Washington quarterback anywhere on their ballot.
The Heisman trust did not take away my vote.
USC's Caleb Williams won in a landslide.
This season, Penix Jr. has 3,207 passing yards, 26 touchdown passes and seven interceptions. UW is undefeated and No. 5 in the College Football Playoff rankings. The Huskies are enjoying favorable kickoff times and nice television windows. And Williams won't be a repeat winner.
Penix Jr. has a different obstacle this season — Oregon's Bo Nix.
The Ducks' quarterback has 2,723 passing yards, 25 touchdown passes and only two interceptions. Nix has also run for five TDs. I'm fascinated with how this head-to-head Heisman battle will shake out.
There are six Heisman voting regions with 145 voters in each. The former winners each get a vote, too. Also, there's one vote assigned to fans. Penix Jr. and Nix play the same position, in the same conference, in the same Pacific Northwest region, and because of that I wonder how much they might cannibalize each other.
Williams plays at USC, where Heisman winners frequently do. Trojans' players have won the award seven times, tied for most of all-time with Notre Dame, Oklahoma and Ohio State. Williams also had strong visibility from the start of the 2022 season. His team was highly ranked, went 11-1 in the regular season, and played for a conference title.
It lined up well for Williams last year. But it also helped that there wasn't another clear and strong candidate in the Pac-12. Penix Jr. finished a distant eighth in the vote in 2022. Nix got hurt and his campaign faded in the final month of the season.
Penix Jr. or Nix in 2023?
Both would be on my ballot if I had to cast it today. I'd probably put Penix Jr. at No. 1 and Nix at No. 2 right now, but it's close and there's still ball to play. They may meet again in the conference title game in Las Vegas and settle it. Ballots are distributed Nov. 27 and voting closes on Dec. 4 — the Monday after the Pac-12 championship game.
Voting is subjective, of course. One year, I put USC receiver Marqise Lee in the No. 3 spot on my ballot and got mocked for it. Another time I included Notre Dame's Manti Te'o as my No. 2 pick. I felt catfished. On that note, I'm reminded of the saga of Paul Buker, the now-retired long-time Oregon-based sportswriter.
Buker was a must-read and a keen observer. He has the wit of Mark Twain and best-of-all writes unfiltered. Buker was so entertaining that I'd have read his expense reports. I reached out to Buker on Monday because I remembered some controversy surrounding his Heisman Trophy ballot.
In fact, Buker got stripped of his vote.
He remembered writing a "whiny column" when he was a student at Oregon in the 1970s, campaigning for Dan Fouts to win the Heisman. Fouts didn't win. He did make the Pro Football Hall of Fame, though. Validation for Buker? But that's not what got Buker in hot water years later with the Heisman trust.
A left-handed Portland State quarterback was at the center of that storm. Chris Crawford took the Vikings to two Division II NCAA title games in the late 1980s. He was the Western Football Conference Offensive Most Valuable Player and a Division II All-American in 1988. 
Buker put Crawford on his Heisman ballot and sent the thing in.
The PSU quarterback received no other votes.
Said Buker: "I got a call from somebody telling me I was no longer a Heisman voter."
Crawford didn't make the Pro Football Hall of Fame. He did have two children and went on to have a successful career as an executive at Nike, though. Crawford died of leukemia in 2019. He was 51. That's too young. I hope Crawford knew that in 1988 a sportswriter who saw him play QB stuck his neck out for him. Buker thought Crawford was the most-outstanding player in college football.
That counts for something, yes?
If you have a paid subscription — thank you. Your support allows me to travel and continue to tell the stories that need to be told. I'm also grateful for readers who "gift" a friend or family member a gift subscription. And I've been blown away at the generosity of those who have stepped up to donate a subscription to a senior on a fixed budget or someone who can't otherwise afford it.
Onto the mailbag…
This post is for paid subscribers