Discover more from Bald Faced Truth by John Canzano
Columnist John Canzano on sports, college football, and more.
Over 36,000 subscribers
Canzano: College Football Playoff path open for Oregon, Washington
Rapid reaction to the playoff rankings...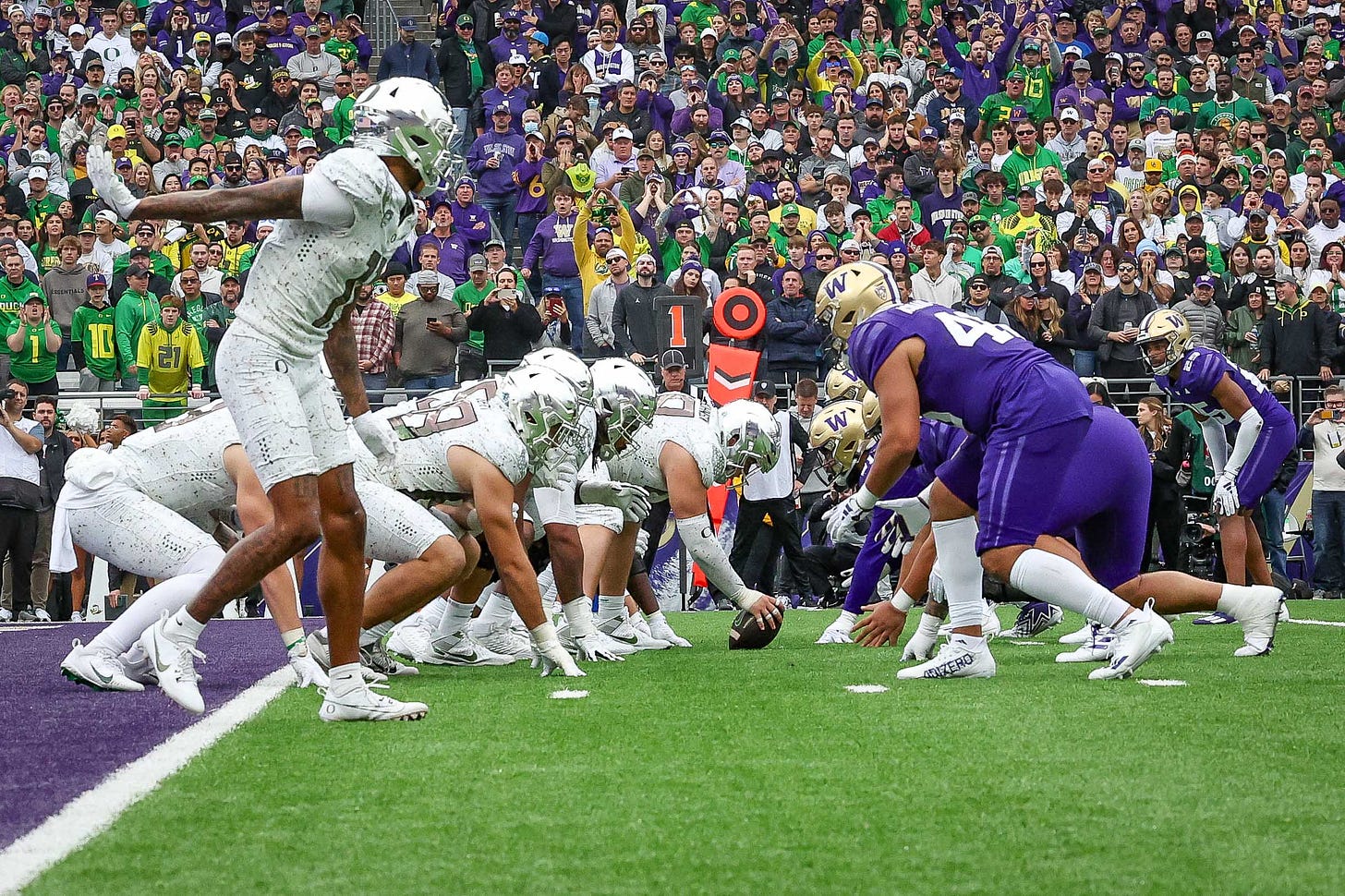 The College Football Playoff selection committee released its first set of 2023 season rankings on Tuesday.
The top-six:
Ohio State

Georgia

Michigan

Florida State

Washington

Oregon
Some quick thoughts:
• The Pac-12 Conference has two teams in the top six. Washington (8-0) is ranked fifth and Oregon (7-1) is sixth. The potential path to the playoff sets up very nicely for those two schools.
• The selection committee must have really valued the Ducks' 35-6 road win over Utah last Saturday. The committee made UO the top-ranked one-loss team. I agree with that, but was a little surprised to see it because I'm so used to the customary anti-Pac-12 rhetoric.
• Texas has a win over Alabama this season, but Oregon's lone blemish this season was that three-point loss at Washington. The committee slipped the Ducks in front of the Longhorns in a very intentional way.
• If either Washington/Oregon wins the rest of their regular-season games and wins the Pac-12 championship game, they're in the playoff. No way around it.
• Like the Big Ten (Ohio State/Michigan) the Pac-12 has two teams in control of their destiny.
•Ohio State (No. 1) and Michigan (No. 3) play each other on Nov. 25. The loser of that game would need some help to climb back into the top four.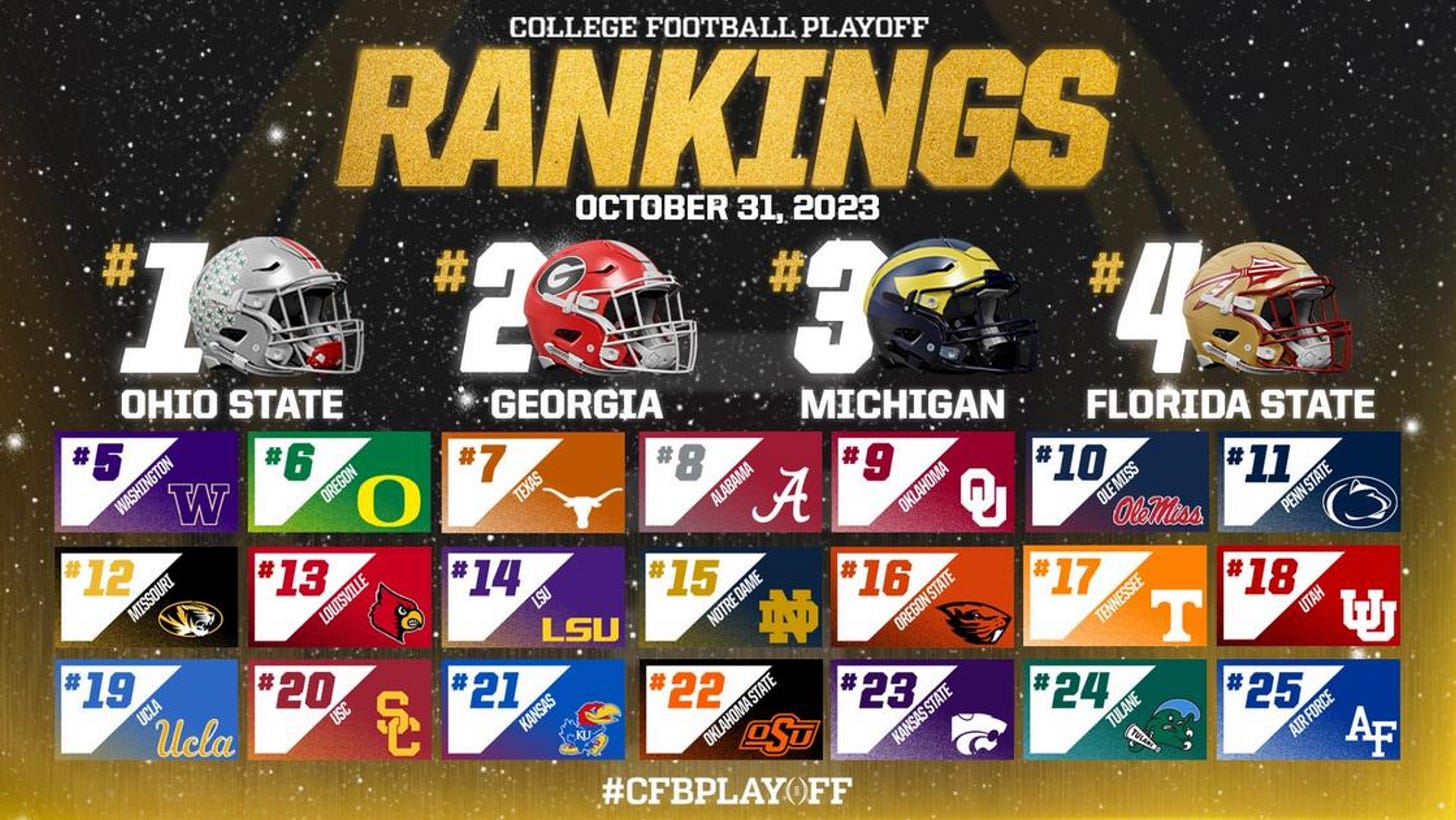 • Oregon State (6-2) is sitting at No. 16 in the initial CFP ranking. It makes last Saturday's 27-24 loss at Arizona even more frustrating for OSU, doesn't it? Still, it's a reminder of how far the Beavers have come under Jonathan Smith.
• Oregon State is building brand. Everyone expected OSU to appear in Tuesday's rankings. That was not a surprise. This is good for the long-term trajectory of the program, but the Beavers need to keep winning and underscore that narrative. It could help if/when there's another round of college football realignment.
• USC (No. 20) and Oregon State (No. 16) both have games left on the schedule vs. Oregon and Washington. Also, Washington plays vs. No. 18 Utah. There are ample opportunities for the Ducks/Huskies to gain quality wins and potential Top 25 wins. Also, there are some dicey games. The next month is going to be fun.
• Both USC (5-1 in conference play) and Oregon State (3-2) are still mathematically in play when it comes to a potential berth in the Pac-12 title game. Keep that in mind.
The Trojans and Beavers are not just playing the role of spoiler, they're both still in a race for the conference title. If OSU runs the table and beats Oregon in the Civil War, for example, both schools could have two conference losses but the Beavers would hold the head-to-head tiebreaker. Again, this is going to be a wild finish.
• ESPN's Kirk Herbstreit said on Tuesday: "I wouldn't want to play Oregon right now… if you're asking me who I would not want to play it would be Oregon."
Give me your rapid reaction to the initial playoff rankings in the comment section.
---
I appreciate all who read, support, subscribe and share this new, independent, endeavor with friends and families. If you're not already a "paid" subscriber, please consider a subscription so you don't miss a thing:
This is an independent reader-supported project, with both free and paid subscriptions. Those who opt for the paid edition are providing vital assistance to bolster my independent coverage. Paid subscribers have full access to all of my posts.